Mobile Payment Stimulated By Paytm Company In India
Source:Powered | Author:admin | Time:2018-10-13 | Views:961
QR Scanner

is widely fast used in many kinds of kiosks in the world.Self-service stations are becoming more popular in a wide variety of industries,here introduce the metro application.
Paytm, India's largest mobile payment and business platform. On May 19, 2017, Paytm received $1.4 billion in financing from Softbank, which was funded by One97 Communications, which is responsible for its brand operations. The newly raised funds will help Paytm continue to expand on its original 220 million users and provide more financial services products. Paytm's new business, Paytm Payments Bank, has just appointed its CEO and started operations on May 23.
On September 29, 2015, Alibaba and Paytm, India's largest mobile payment and business platform, issued a joint statement announcing that Alibaba Group and its financial subsidiary Ant Financial will inject new funds into Paytm. Ali called this a "strategic" investment.
Ant Financial has acquired a 25% stake in Paytm's parent company One97 Communications in February 2015. Informed sources said at the time that the deal was worth more than $500 million.
In June 2015, two people familiar with the matter said that Ali is in the process of deep negotiations on the shareholding of Paytm. Ali will invest approximately $600 million directly into Paytm, allowing Ali and Ant Financial to hold 40% of the shares held by Paytm, raising Paytm's valuation to $4 billion. [1]
Softbank, along with its long-standing partner, Alibaba, became the majority shareholder of Paytm. In addition, Softbank received a seat on the Paytm board of directors.
India

Mobile Payment

App Paytm downloads increased by 300% monthly total transaction volume exceeded $4 billion
India's online payment platform Paytm's parent company, One97 Communications, said the total monthly transaction amount of the platform has exceeded $4 billion (approximately RMB 26.518 billion). And Paytm's online trading volume reached a new high in June, reaching 1.3 billion.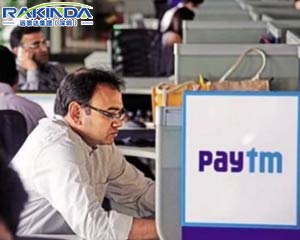 Paytm said the platform's average transaction value has increased by 200% and mobile app downloads have increased by 300%.
Paytm has seen a significant increase in the number of digital payment applications downloaded in second- and third-tier cities in India, which account for 50% of the total user base. Thanks to the expansion of the Paytm platform, the company's annual online transaction volume reached 5 billion, and the total annual transaction amount reached 50 billion US dollars (about 331.48 billion yuan).
The company's total transaction amount in June last year was US$1 billion (approximately RMB 6.629 billion). However, the company did not disclose the data for April and May 2018. Although the total transaction volume is not a true measure of a company's development, as the largest mobile payment and e-commerce platform in India, this value does reflect the widespread use of Paytm in India.
The company explained that Paytm's total transaction value includes online recharge, bill payment, peer-to-peer transactions using the UPI, peer-to-peer wallet transactions, and all merchandise purchases through the e-commerce platform Paytm Mall or Paytm Payment Gateway. However, electronic payment systems such as NEFT, debit card or credit card settlement are excluded.
Paytm said in a statement: "Since January 2018, the platform has processed more than 400 million UPI transactions. Paytm is rapidly replacing online banking and becoming the preferred payment tool for Indian netizens."
However, these transactions do not bring considerable revenue to the company. For example, according to Deepak Abbot, Senior Vice President of Paytm, in each UPI transaction, the company earned only 25 Pasha (about RMB 0.024). He pointed out: "We don't expect these deals to be profitable at all, it's not even enough for our technology costs. Our goal is to strive to be the preferred application for UPI transactions."
"This is entirely for future sales and cross-selling to consumers. Our long-term goal is to be the only payment app for Indian consumers' mobile phones," Abbott said in a telephone interview.
In May of this year, Indian news site Mint reported that in the fiscal year ended March 31, 2017, the company's total revenue was 8.286 billion Indian rupees (about 799 million yuan), with a total loss of 1.255%. Indian rupee (about RMB 1.223 billion), including a one-time special project loss of 5.913 billion Indian rupees (about 570 million yuan).
The company also said that the Paytm platform can support multiple language switching, which is another big factor driving the development of the application. The company noted: "A quarter of Paytm users prefer to log in using a local language. In India, Hindi is the most common language after English."

Paytm claims that the company has established partnerships with more than 8 million offline merchants, and by promoting Paytm QR code payments to this large group of partners, the company will power and support India's largest offline payment network. According to the company, in the past year, the number of female users on the Paytm platform has more than doubled, and Millennials are still the most active users of digital payments. In addition, the number of users over the age of 35 has also increased significantly on this platform.

Shenzhen RAKINDA Technology Co., Ltd. is specialized in the development of smart card hardware and software systems, production, sales and operations in one of the national high-tech enterprises. Products are widely used in city card, park area, retail businesses, parking fees, government platforms and other consumer areas. With years of focus on management, innovation and development, the company in the industry.

Has a wide range of customer base and industry reputation, to achieve the city card applications and urban bus intelligent scheduling management.
RAKINDA engaged in barcode technology research and development for more than 18 years, we have a mature R & D team and overseas markets, we can help you quickly and easily realize unattended dream.