The Latest Trend Of RFID Electronic Label Industry
Source:Powered | Author:admin | Time:2018-09-12 | Views:495
It can be said that every day, people from academia, solution providers, end users, etc. ask about the popularity of RFID. Answers in the past few years have been difficult to popularize. Due to the impact of the financial crisis, many companies have put technology projects aside, and only some companies that have verified operational problems will consider deploying RFID projects. At that time, the days of RFID suppliers were not good.
Recently, things have gotten a bit complicated. The popularity of

RFID technology

has begun to increase. We also see more and more retailers starting to use RFID technology in stores. RFID technology has helped retailers improve inventory accuracy, reduce out-of-stock situations, and become more and more articles that increase efficiency. On the contrary, these articles have also made companies in other industries start to look for the development potential of RFID. The prospects for RFID are also more optimistic than any other day.
In the past three years, we have seen many advances in the RFID industry. In some cases, large companies are buying RFID companies with high growth expectations, and when growth is not as good as expected, they will close all acquired companies. This reduces choice and innovation and is not a good thing for the industry. Other companies that have not seen rapid sales growth for many years have divested the RFID sector. However, some companies that are acquired may also continue to develop technology. Similarly, some RFID companies have acquired struggling software companies or system integrators to enhance their products so that they can better serve their customers.
If there is no big impact in the global economy, in 2017 we will see new growth drivers for RFID technology. So the advice for small RFID vendors and system integrators is that they should focus on existing RFID technologies and target advertising for those looking for RFID solutions. Companies should save cash and generate more revenue.
Large companies have acquired most of the orders, so they will not face bankruptcy. As the market economy grows, it will be those who will seize the market growth opportunities.
Shenzhen Rakinda

LVB02A UHF RFID Bluetooth reader

will be a good choice. UHF RFID reader, 2D barcode scanner; portable multi-functional back clip, Bluetooth RFID scanner; This device makes your phone or tablet a mobile data collector at once via Bluetooth.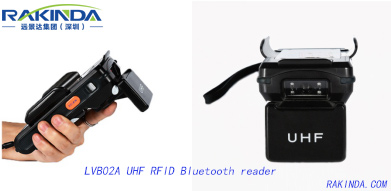 If you have any interests, pls click the click below to know more details:
http://www.rakinda.com/en/productdetail/83/105/121.html
Shenzhen RAKINDA Technology Co., Ltd

. is specialized in the development of smart card hardware and software systems, production, sales and operations in one of the national high-tech enterprises. Products are widely used in city card, park area, retail businesses, parking fees, government platforms and other consumer areas. With years of focus on management, innovation and development, the company in the industry has a wide range of customer base and industry reputation, to achieve the city card applications and urban bus intelligent scheduling management.
RAKINDA engaged in

barcode technology

research and development for 18 years, we have a mature R & D team and overseas markets, we can help you quickly and easily realize unattended dream.