Barcode Scanner Helps Economic Development and Market Supervision
Source:Powered | Author:admin | Time:2018-07-24 | Views:490
As a commodity circulation "ID card" and a globally-used business language, commodity bar codes have been introduced into China for 30 years and have been deeply applied in many fields, achieving global standardization of commodity codes, interconnection of commodity data, and digitization of logistics management. And

barcode scanner

plays an important role too.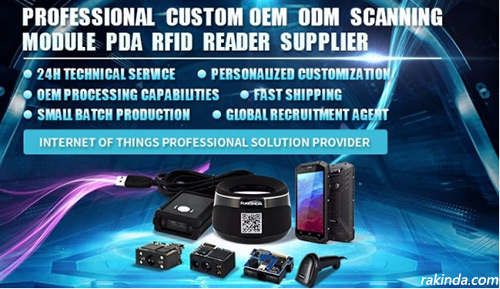 Product barcodes are universal coding standards
Barcode technology was born in the United States in the 1920s. It was not until the establishment of the UCC in the 1970s that the Cincinnati branch of the US Kroger supermarket used bar codes for commodity sales for the first time, opening the era of automated retail settlement. At present, the global unified coding and signing system (GS1 system) centered on commodity bar code technology has been widely applied in more than 150 countries and regions and over 1.5 million enterprises, covering FMCG, retail, manufacturing, logistics, e-commerce, and food Safety traceability, medical care, building materials and other industries and fields, the global daily transaction through the product bar code reached 6 billion times.
Rakinda Technologies

, as a leading Auto-ID supplier in China for 18 years, spares no efforts to promote the development of mobile payments in China and around the world, with a series

barcode scanner module

for payment, such as 4500 series scanner. Rakinda also develops unmanned convenience store, to bring self-service buying and cashless payment. If you are interested in it, please visit the website:

www.rakinda.com