The New Retail Mode — Self-service Store
Source:Powered | Author:admin | Time:2018-02-02 | Views:968
The new retail mode is becoming hot. In the fourth World Internet Meeting, this mode is been introduced. As for this mode, Jack Ma said, this new retail mode–Self-service store is the combination of online selling and offline selling, the combination of workers, goods, warehouse and shippment. In the future, 60%, 70%, 80% retail will be in this mode–Self-service store.
Jack Ma opens the first self-service store—buying coffee. Self-service store is one of the new retail. You can lead the market, when you do well in this new technology field.
Which equipment is need in this self-service store, and how about the working of this new mode? Please kindly check the following information:
1.The buyers go into the store after scanning the barcode to become the member of this store;
2.After you choose the goods well and put them in the cashier; and then make payment by alipay and wechat pay.
3.After shopping, there are two doors; when buyers go though the first door, the door will be closed, and then check whether the goods has been paid; if everything is okay, the second door will be opened, you can leave with the items; if everything is not okay, these information will be showed to the shopper.
In order to achieve these functions, many equipment are included.
1.The Access Control Scanner with barcode scan engine to recognize the member of buyer through qr code;
2.RFID door with RFID scanner to check whether the goods is paid;
3.The weighting system of RFID to weight goods and calculate the cost;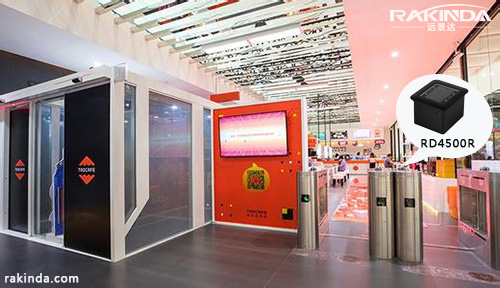 Rakinda, as the gold supplier in the industry of IOT (Internet of things) for 17 years, we specialized in the whole-solution of self-service store. Hope to cooperate with your about this new brand technology.