Rakinda Barcode Scanner Supports Supermarkets Transformation and Upgrading
Source:Powered | Author:admin | Time:2017-11-24 | Views:519
Customers flowrate is very important for supermarkets. Nowadays, merchandise price is important and not most important. People love to drive a long way to buy items in their favorite supermarkets. If a supermarket wants to strive for a long-term, it needs to keep attractive.

Some modern supermarkets have already launched self-service POS. It is a great innovation. Customers can practice as the cashier. As the last step, customers use Wechat or Alipay QR payment code to finish payment.
Rakinda RD4500-20 2D scanner is good at scanning phone screen code. Even when the phone screen is covered with the protective film or set to low brightness, RD4500-20 barcode scanner can still scan the phone screen code quickly. The scanner is USB or serial cable output. It is easy to integrate into POS system.
RD4500-20 can easily scan all most all kinds of mainstream 1D barcode and standard 2D barcode. With fully integrated design and big scan window, it can be embedded in various kiosk applications.

On the current tendency of increasingly popular mobile payment, Rakinda barcode scanning solution has been recognized by many clients. Self-service POS is an important transformation and upgrading of supermarkets and this cooperation between Rakinda and supermarkets gives consumers full experience of the convenience that brought by science and technology.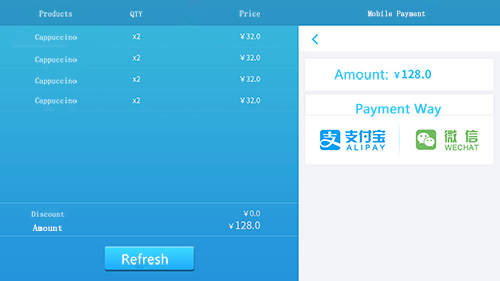 About Us
Rakinda (Shenzhen Rakinda Technologies Co., Ltd.) was founded in 2000. We provide products and solutions specialized in AIDC industry. Please kindly contact if you are interested in barcode scanning technology. We will do our best to support you.