RD4100 Desktop Machine Scanning Barcodes Fast
Source:Powered | Author:admin | Time:2018-05-11 | Views:637
RD4100 series desktop

1D/2D barcode scanner

is able to read bar codes from paper and mobile phones, designed primarily for such applications as electronic tickets or coupons, mobile marketing, and office automation. Nowadays, it is an era of mobile payment, people are increasingly inseparable from mobile phones. When we go to the supermarket for shopping, go to the hotel for reservations, go to the restaurant to eating, we can see everywhere supporting the sign of mobile payment.
RD4100 was born in response to the call for intelligent life. It is stylish, easy to use, and can be operated by connecting directly to a computer. For example, when we participate in a large-scale conference, the organizers can provide the QR code to the participants in advance through the mobile phone, and then provide the RD4100 for everyone to sign in at the entrance instead of the traditional hand-written check-in. In this way, not only can the time of both parties be saved, but also avoid to cause confusion in the process of waiting.

RD4100 desktop scanner

can be used in places like supermarkets or restaurants where it is necessary to scan the code for mobile payment. In China, it also has a bright spot ---invoicing. Because of this, the RD4100 occupies the market at a rapid rate. As for foreign countries, its outstanding selling point is a desktop machine that can quickly scan two-dimensional codes.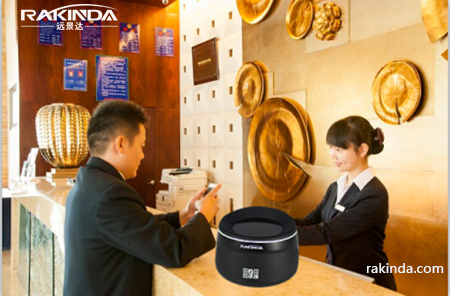 RD4100 boasts the following features. First, it can capture digital bar code data. It is capable of reading 1D and 2D bar codes off mobile phones. Second, RD4100 is able to capture printed bar code data, which is capable of reading 1D and 2D bar codes printed on paper. Third, it has ability to scan quickly. It delivers the effortless, snappy and accurate reading of bar codes on various mobile phone LCD screens with different contrast ratios colors and reflectance. Fourth, RD4100

desktop barcode scanner

is easy to use. Its simple configuration by scanning the programming bar codes is provided in the user guide.
Shenzhen RAKINDA Technology Co., Ltd. is specialized in the development of smart card hardware and software systems, production, sales and operations in one of the national high-tech enterprises. Products are widely used in city card, park area, retail businesses, parking fees, government platforms and other consumer areas. With years of focus on management, innovation and development, the company in the industry
Has a wide range of customer base and industry reputation, to achieve the city card applications and urban bus intelligent scheduling management.
RAKINDA

engaged in barcode technology research and development for more than 18 years, we have a mature R & D team and overseas markets, we can help you quickly and easily realize unattended dream.