Scanning module help you stand out during the outbreak of self-service vending machines
Source:Powered | Author:admin | Time:2018-04-13 | Views:674
The "Unmanned Retail Industry Report in the Mobile Payment Era" was jointly issued by WeChat Payment and the China Non-Department Stores Association and the Self-Service Vending Industry Sub-Committee. The report shows that unoccupied retailers cover almost all ages and coverage of first-tier cities. Leading, emerging scenes are getting closer and closer to consumers. Post-90s , they were the core consumer group of unmanned containers, and Post-95s they led the consumer trend of self-service vending machines. For all age groups, the number of self-service vending machines is second only to the convenience stores and the acceptance rate is relatively high.
With the increase in Post-90s spending power , the demand for self-service vending machines is strong and the stock is extremely low. In China, the number of self-service vending machines is only about 230,000 units, which is mainly operated by third-party operators. There are fewer self-service vending machines owned by brand owners. China's FMCG food and beverage industry is intensifying competition,and the FMCG brands and related new products are emerging endless stream. In the future, brand owners may seek transformation and directly participate in the offline retail market competition. The self-supporting self-service vending machines of brand owners are expected to help brand advertisers achieve advertising, consumer data collection and channel management, grasp all aspects of commodity circulation, and increase market share. Nongfu Spring, Wahaha and other brands have started to layout line via the self-service vending machine. Under the new retail background, more and more brand owners will focus on the offline retail scene, and the self-service vending machine market will usher in an outbreak period. It is conservatively assumed that the average selling price of each self-service vending machine in China is 20,000 yuan, corresponding to a market space of 200 billion yuan.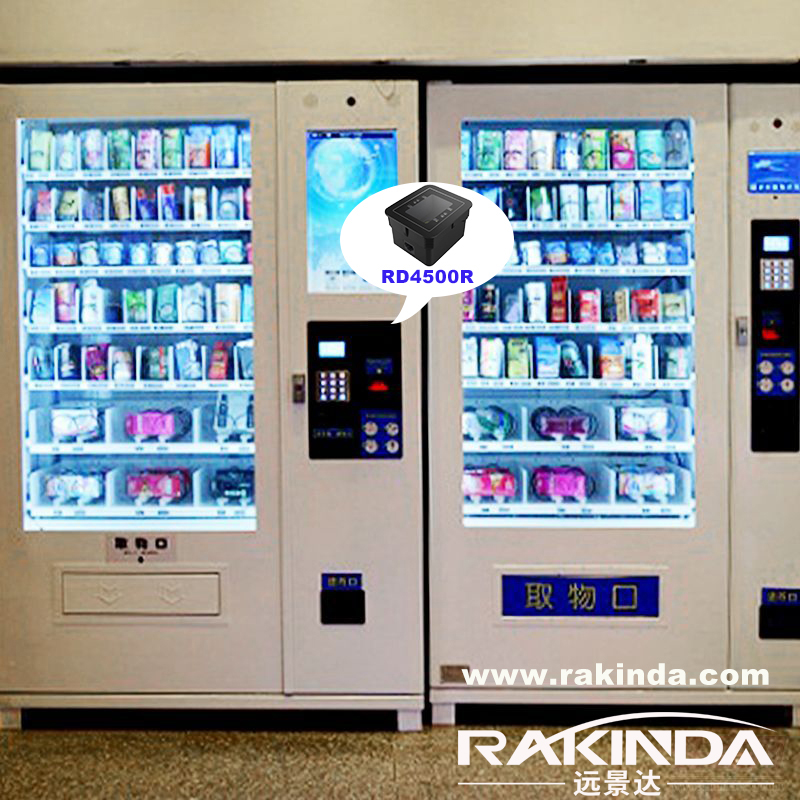 The large market space means that the industry of self-service vending machines is also very competitive. How to stand out from the competition in this industry? You need a superior scanning module here. RAKINDA RD4500R 2D barcode scanner module - reads 2D barcode information on phone screens and paper documents.Reader module design of core functions can be embedded with access gates, smart access control, self-service terminals and other terminals perfectly. RD4500R adopts a new generation of core decoding technology independently researched and developed to quickly read the large data volume screen bar codes of the lowest brightness and various types of films. The large window design perfectly reads the long bar codes of various types of documents; in the standby/sleep mode, the device can Extreme speed sensing, instant start and quick reading of objects near the scanning window; adopting independent core technology, green low-power operation, extending equipment life; embedded metal housing design, tailor-made for all types of self-service scanning equipment.