Rakinda LV3000U Barcode Scanner Fixed On Production Line
Source:Powered | Author:admin | Time:2019-02-21 | Views:154
Time goes so fast, it is near the end of this year, and the new year 2019 will come soon. Let me say Happy new year to everyone who has the luck to browse our this article.
And in 26th December, one of my Ghana customer ordered our 2 pieces LV3000U for the production line using. And since he contacted us at the beginning of November and until now it has passed almost 2 months. I thought there no hope for his sample order, but finally, he still chose us. We talked so long time on Christmas Day and his sample order not only includes 2 pieces LV3000U and also including 1 piece of our

fixed mount barcode scanner

RD4500R(not sure about his specific application, but our RD4500R can be embedded in vending machine, self-teermial machine, production line and so on many fields) and 1 piece

handheld wireless barcode scanner

RK400S (For warehouse use), which is a big surprise for me. That equals to a big gift to me for Christmas Day. Pls see the below attached screeshot conversation and payment between us.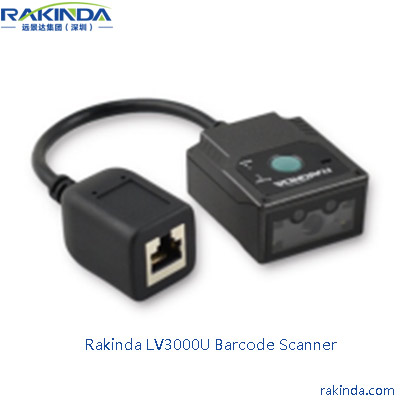 LV3000U main features as below:
1:

LV3000U Fixed Mount 2D Scanner

is environmentally sealed to an IP54 rating to prevent dust, moisture and other contaminant from entering it.
2: IR/Light Triggers: The combination of IR sensor and light sensor exhibits an improved sensitivity in activating the scanner to scan barcodes as they are presented, to achieve higher throughput and productivity.
3: Automatic Exposure Control (AEC) The sensors in the LV3000U automatically adjust the brightness of supplementary lighting based on the light reflected off barcode.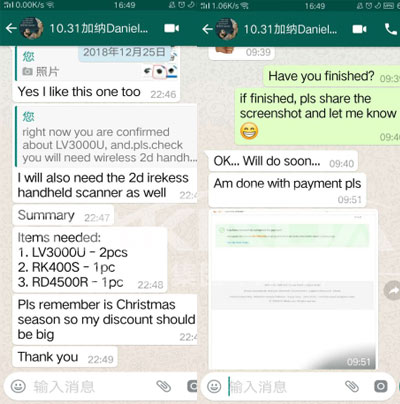 If you want to know more details, pls click the link below:
http://www.rakinda.com/en/productdetail/83/118/95.html
Shenzhen RAKINDA Technology Co., Ltd

. is specialized in the development of smart card hardware and software systems, production, sales and operations in one of the national high-tech enterprises since 2000. Products are widely used in city card, park area, retail businesses, parking fees, government platforms and other consumer areas. With years of focus on management, innovation and development, the company in the industry has a wide range of customer base and industry reputation, to achieve the city card applications and urban bus intelligent scheduling management.