LV3000U OCR Passport Scanner
Source:Powered | Author:admin | Time:2018-07-19 | Views:490
LV3000U OCR Reader

can be used in industry for quick scanning or checking due to its high performance. More importantly, it plays a profound role on identity authentication when you go across from one country to another country. By this way, it can not only save passengers' time, but also reduce the heavy work of inspectors. We have many successful cases till now. And no customers don't like it.
LV3000U

Fixed Mount 2D Scanner

is environmentally sealed to an IP54 rating to prevent dust, moisture and other contaminant from entering it. It has below features. First, it has IR or light triggers. The combination of IR sensor and light sensor exhibits an improved sensitivity in activating the scanner to scan barcodes as they are presented, to achieve higher throughput and productivity. Secondly, it has automatic exposure control. The sensors in the LV3000U automatically adjust the brightness of supplementary lighting based on the light reflected off barcode.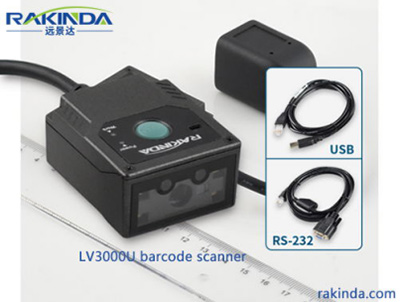 Thirdly, it has IP54-sealed Housing. The LV3000U is environmentally sealed to an IP54 rating to prevent dust, moisture and other contaminant from entering it. Fourthly, LV3000U hold unmatched reading performance. The LV3000U

passport scanner

is capable of reading 1D as well as high-volume 2D barcodes on the screen covered with protective film. Fifthly, it possesses highly visible laser aimer. The LV3000U provides a laser-generated crosshair aiming pattern that is clear and bright even in bright sunlight, ensuring first time accurate aim. Sixthly, the scanner withstands multiple 1.5m drops toconcrete (for six sides, three drops per side).
Shenzhen RAKINDA Technology Co., Ltd. is specialized in the development of smart card hardware and software systems, production, sales and operations in one of the national high-tech enterprises. Products are widely used in city card, park area, retail businesses, parking fees, government platforms and other consumer areas. With years of focus on management, innovation and development, the company in the industry has a wide range of customer base and industry reputation, to achieve the city card applications and urban bus intelligent scheduling management.
RAKINDA

engaged in barcode technology research and development for 18 years, we have a mature R & D team and overseas markets, we can help you quickly and easily realize unattended dream.