Rakinda Will Struggle to be A "Worthy" Company in 2018
Source:Powered | Author:admin | Time:2018-01-29 | Views:892
In 2017, Rakinda has made some historical development. We are grateful for customers' trust and support and grateful for every Rakinda people for their hardworking effort. Rakinda has gained good market feedback in bus traffic, smart traffic, intelligent hospital, intelligent terminal and self-service stores.

The CEO of Rakinda Group pointed it out that "currently we are in the phase of stable and fast development. In 2018, we will pay more attention to high quality development and become a worthy company."
What is a worthy company? The company should have strategic plan for future, complete before and after sales service and have the ability to provide fit solutions for clients in different areas. Self learning is very important for staff. There will be quite difference for people who learn three years and who don't learn. We are in the cutting edge of barcode scanner technology. Learning is more important for us. Only in this way, we can provide perfect solutions for clients after learning and practice.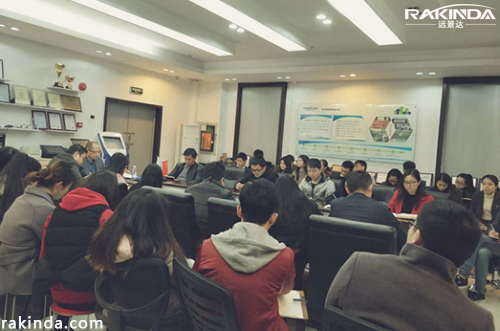 Established in 2000, Rakinda has been focused on barcode label, barcode printer, barcode scanner, barcode scanner module, RFID and self service store. We have different focus at different stage. Currently, our main business is about mobile payment and self-service store and our traditional business is still about barcode label and barcode printer. In 2018, the overseas department will be more focused on self-service store, mobile payment scanner and also barcode label. Our vision is to become to a global leader in barcode scanning based IOT solutions. We will work very hard on it.