Solution
Unmanned Supermarket Innovation And Entrepreneurship Expo
Source:Powered | Author:admin | Time:2018-10-12 | Views:356
Under the expectation and support of exhibitors, media and industry insiders at home and abroad, the 2018 Second Hainan International High-tech Industry and Innovation and Entrepreneurship Expo (referred to as: Haichuang Association) hosted by Hainan Provincial Department of Science and Technology in 2018. It will be held at Hainan International Convention and Exhibition Center from 28th to 30th. At this innovative technology exhibition, a new retail smart

unmanned supermarket

hosted by Shenzhen RAKINDA will be on display. Interested partners can experience the unmanned supermarket black technology on the spot.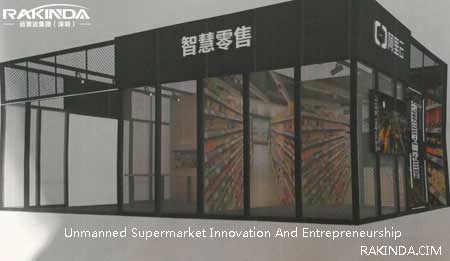 Rakinda

new Retail Intelligent Unmanned Supermarket

is a design concept based on advanced IoT smart technology and big data, using RFID radio frequency, face recognition, mobile payment, non-inductive payment, commodity load detection, security anti-theft system, big data Analyze system technical means to achieve "unmanned self-service consumption settlement." It greatly enhances the user experience, reduces offline manual operating costs and uses big data to analyze each consumer's characteristics and consumer behavior and to understand consumer preferences and improve interactive marketing.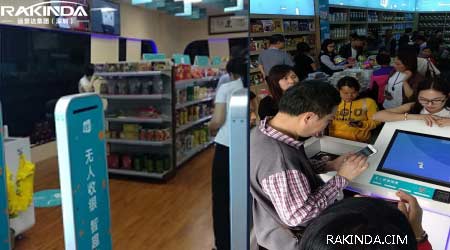 Rakinda Unmanned New Retail Shopping Process has the following three steps:
1. WeChat scan code registered member, show the mobile phone QR code scan code / face recognition into the store;
2. Select your favorite goods;
3. Put the goods into the self-service checkout counter, automatically identify the goods and open the mobile phone payment code to scan the code to pay, and finally automatically check the goods payment status to complete the departure.
At the same time, the Haichuang Club brings a most advanced and mature vision to the new retail unmanned supermarket solution, while injecting a warmer flow into traditional retail, while indicating artificial intelligence and new retail unmanned supermarkets and

unmanned convenience stores

. The pattern has been formed and has become the biggest attraction of this exhibition.
Shenzhen RAKINDA Technology Co., Ltd. is specialized in the development of smart card hardware and software systems, production, sales and operations in one of the national high-tech enterprises. Products are widely used in city card, park area, retail businesses, parking fees, government platforms and other consumer areas. With years of focus on management, innovation and development, the company in the industry has a wide range of customer base and industry reputation, to achieve the city card applications and urban bus intelligent scheduling management.
RAKINDA

engaged in barcode technology research and development for 18 years, we have a mature R & D team and overseas markets, we can help you quickly and easily realize unattended dream.