Solution
Shenzhen Rakinda RD4500R QR Code Scanner Using for Smart Unmanned Supermaket
Source:Powered | Author:admin | Time:2018-07-30 | Views:305
Smart unmanned supermarket

is a design concept based on advanced Internet of Things smart technology and big data, using RFID radio frequency, face recognition, mobile payment, cashless payment, goods load detection, security anti-theft system, big data Analyze system technology and realize "no-person self-service consumption settlement." It greatly enhances the user experience, reduces the cost of manual operations offline, and uses big data to analyze each consumer's characteristics and consumer behavior and gain insight into consumer preferences and improve interactive marketing.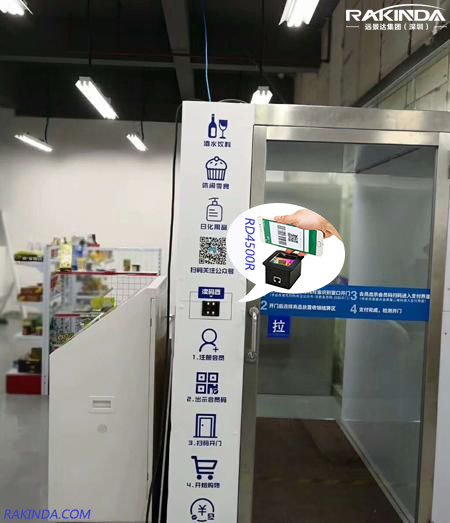 There are three steps in the process:
1, WeChat scan code registered members, show mobile phone QR code scanning / face recognition into the store;
2, select favorite products;
3, the goods into the self-service cashier, automatically identify the goods and open the mobile payment code scan code payment, and finally automatically detect the payment status of the goods to complete the departure.
Shenzhen Rakinda can supply

RD4500R qr code Scanner

which is specialized in Smart cashless, it is good for mobile screen and very flexible for scanning the barcode ,RAKINDA is a company committed to the development up to bar code technology at the core of the automatic identification system integration organizations, enjoyed several years of industry experience and excellent reputation, in Shenzhen and Hong Kong branches, and has a very skillful, experienced, innovative R & D and after-sales technical support service team. Rakinda Group, the manufacturer of

barcode scanner module

, was established in 2000. We have offices in Guangzhou, Shenzhen, Hongkong, Xiamen, Suzhou and Beijing. And we have been supplying the

barcode reader module

for Walmart, Carrefour and Foxconn etc.if you are interested in us , pls do not heistate contact us.