Solution
Rakinda Unmanned Grocery Store Goes Live
Source:Powered | Author:admin | Time:2018-06-08 | Views:449
You are in a hurry for work this morning, hungry without breakfast. You run into a store, grab a sandwich and just run out without any check-out. All it takes only a few seconds in the unmanned store.
At present, the online and offline complementary unmanned store, supported by Internet of Things( IoT), has become a new trend in the global retail industry, such as Amazon Go and Bingo Box. However, through the practical operating in recent months, new problems arose.
Unmanned stores use electronics, software, sensors etc, which enables their goods to connect and exchange data through the online payment system so that there is no need for a cashier. Under this situation, online and offline retailers can be connected. On the one hand, online is no longer just a sales channel but interact with consumers and their social groups. On the other hand, offline retailers can keep consumers in their stores for longer, offering better customer experiences. This model is called New Retail.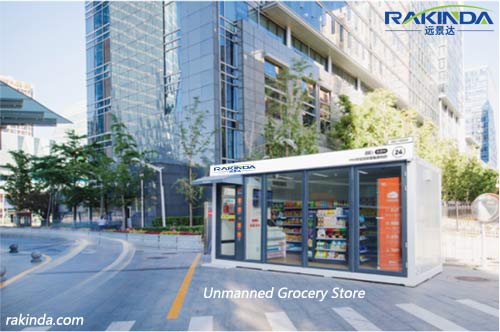 Different positioning strategy in the market from Alibaba and Amazon Go, company like Freego eyes on the small scale stores. "Self-operating shops are our main target market because they face the pressure of up-going expenditure of labor most urgently." Lan Xichao, Vice manager of Rakinda said. As Lan explained, some of the traditional stores are held by the couple, they can only run the business by themselves due to low-profit margin. However, with unmanned stores, the couple stores reached a new level of high efficiency and higher profit. For example, they can add home delivery services while don't need to close the store, and also extend their opening hours.
Technology export is another commercioganic business brought by

unmanned supermarket

. Rakinda, one of the technology supporter of Alibaba' trial unmanned store, Tao Cafe, provided majorly the self-check-out station to the market. The sales manager of Rakinda, He Min said due to the relatively low pre-investment for the self-check-out station at RMB150 thousand and the long-term payback from the controllable staff cost, they target to receive more than 500 orders by 2018 and they are going to provide technical support to 100 unmanned stores by the end of 2019.
You will be surrounded by unmanned stores soon, you only need to use your phone to make a registration to be the member of shop , then you can get a QR code for entering by scanning in front of 2D barcode scanner RD4600.
There is some credible statistics base on "China Unmanned Retail Market Survey and Investment Prospects Report, 2017".
The transaction volume of China unmanned retail stores reached 10 billion yuan last year. With the further development of AI recognition technology and IoT payment technology, it is expected that the transaction volume will reach 950 billion yuan in 2022.
Moreover, the number of users of unmanned retail stores reached 5 million last year, but as the e-commerce giants investing their capital, it is expected that the number will grow rapidly this year to 15 million people, with a growth rate of 200%.
As

unmanned retail stores

have many advantages, such as online and offline interaction, real-time data analysis and high efficiency, lots of companies found new businesses. Bingo Box will expand its 200 unmanned stores to 20,000 this year. Additionally, Jing Dong plans to open more than 100 JD X unmanned store by the end of this year.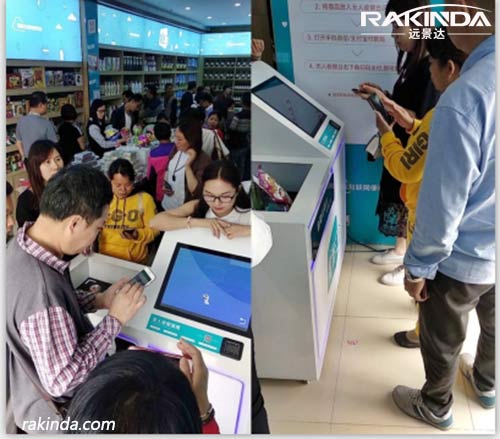 Shenzhen RAKINDA Technology Co., Ltd

. is specialized in the development of smart card hardware and software systems, production, sales and operations in one of the national high-tech enterprises. Products are widely used in city card, park area, retail businesses, parking fees, government platforms and other consumer areas. With years of focus on management, innovation, and development, the company in the industry
Has a wide range of customer base and industry reputation, to achieve the city card applications and urban bus intelligent scheduling management.
RAKINDA engaged in

barcode technology

research and development for more than 17 years, we have a mature R & D team and overseas markets, we can help you quickly and easily realize unattended dream.