Solution
Cheers Launch First Unmanned, Cashless Store In Singapore
Source:Powered | Author:admin | Time:2018-05-31 | Views:368
The Cheers store allows customers to process their own purchases using one self-checkout system for cashless payments via NETS, credit cards, EZ-Link, mobile and contactless modes.
It will also allow NETS payments via quick response (QR) codes, a type of barcode read by devices, according to a press release issued by Cheers and its parent company NTUC FairPrice.
Vending machines will provide customers with a variety of ready-to-eat meals ranging from pastries and pizza to local dishes like fried rice and hor fun.
The store will also utilize data and video analytics to analyze purchasing behavior and customize its inventory. An auto-ordering system eliminates the need to manually track and order stocks.
Another unmanned Cheers store is scheduled to open in Tampines by the end of August.
BOOST IN PRODUCTIVITY
With no cashiers to process payments and bag purchases, an unmanned store saves up to 180 man-hours a week, FairPrice and Cheers said. The automated

self-checkout system

also eliminates the need to manually perform cash reconciliation and physically bank in the day's takings.
"The savings in manpower will allow staff to be redeployed and up-skilled to focus on higher-value jobs," they said.
The unmanned store also doubles up as a training facility for NYP's School of Business management students specializing in retail to gain hands-on experience in running a business and test other innovative ideas.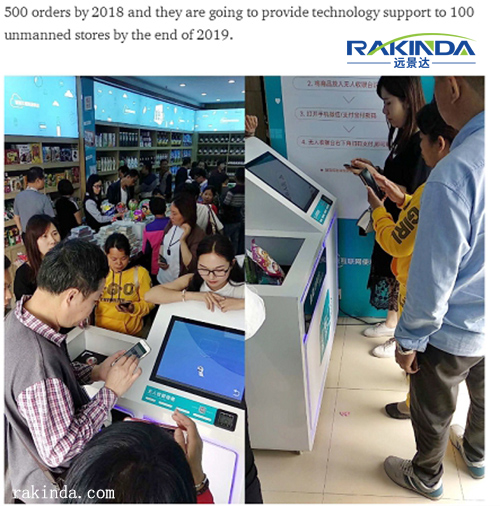 The store is fully run by more than 50 students every year, who are deployed in several batches throughout the year to run the store.
Mr. Seah Kian Peng, CEO of NTUC FairPrice, said the concept aims to challenge industry norms by bringing about a step change in the retail industry.
The companies said the initiative is in line with the Food Services and Retail Industry Transformation Maps launched in 2016 by the Ministry of Trade and Industry and Spring Singapore.
Shenzhen RAKINDA Technology Co., Ltd

. is specialized in the development of smart card hardware and software systems, production, sales and operations in one of the national high-tech enterprises. Products are widely used in city card, park area, retail businesses, parking fees, government platforms and other consumer areas. With years of focus on management, innovation, and development, the company in the industry
Has a wide range of customer base and industry reputation, to achieve the city card applications and urban bus intelligent scheduling management.
RAKINDA engaged in

barcode technology

research and development for more than 17 years, we have a mature R & D team and overseas markets, we can help you quickly and easily realize the unattended dream.