Solution
Rakinda Unmanned Stores with RFID Barcode Scanner Technology
Source:Powered | Author:admin | Time:2018-05-17 | Views:343
Unmanned convenience stores, it is incredible that you do not need to be on duty to complete the shopping process. So how do customers buy products? Originally, it was all self-service shopping, which was not only to improve the shopping experience of the consumers, but also to reduce the operating costs of the stores, to achieve the digitization of the stores, and to refine the operation. This is also the development trend of the new retail in the future. Below are some

unmanned stores

advantages.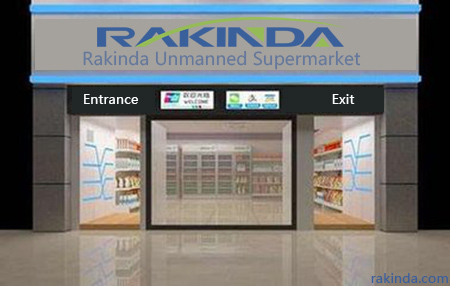 1) Convenience of consumption
Consumers go to the store to use their mobile phones outside the gate to pay attention to the WeChat public number. After registering the information, they generate a 2d barcode uniquely indicated by the user. They use the mobile phone's2d code to scan at the gate's

barcode scanning

area and verify the passage of the rear gate. Open it up and enter the shopping area. After purchasing a good product, insert the product into the weighing area in the settlement area inside the gate. RFID instantly recognizes the quantity of the product and the individual product and displays the shopping information and settlement amount on the Android cashier host screen. , At the same time, calculate the total weight check for all goods without errors; the user can print the ticket after the payment is completed in the scan code window by closing the payment QR code and open the door to leave the store.
(2) Reduce operating costs
Small convenience stores can be seen everywhere, competition is fierce, rents and labor costs continue to grow, and even large-scale losses occur. Traditional hypermarkets cannot meet the development of the times.
(3) Realize the refined operation of stores
After consumers go to the store to consume, they will analyze each customers consumption habits through big data to conduct product recommendation, so that the operation is more efficient and the experience is more perfect.
Rakinda is a company committed to the development up to barcode technology at the core of the automatic identification system integration organizations, enjoyed several years of industry experience and excellent reputation, in Shenzhen and Hong Kong branches, and has a very skillful, experienced, innovative R & D and after-sales technical support service team.
Rakinda Group, the manufacturer of barcode scanner module, was established in 2000. We have offices in Guangzhou, Shenzhen, Hongkong, Xiamen, Suzhou and Beijing. And we have been supplying the

barcode scanner module

for Walmart, Carrefour and Foxconn etc.