Solution
The progress for Rakinda Unmanned supermarket
Source:Powered | Author:admin | Time:2018-05-04 | Views:337
Unmanned supermarket

If last year, Google's AlphaGo lit the upsurge of AI,then Amazon's Amazon Go plays the same role in the unmanned retail sector.Recently, a variety of traditional retail outlets have arranged new retail store innovation projects.
For example, WAL-MART's self-service grocery kiosk, EASY HOME's convenience store called EAT BOX.Before that, there were many unconventional retail outlets such as Alibaba's Tao coffee, Colorful Boxes and so on.These unmanned retail outlets, with the help of new technologies, innovate the traditional retail mode, which will lead to more imagination in business.
Why is it that Unmanned supermarket can really serve the whole service behind consumers? It naturally has its magic.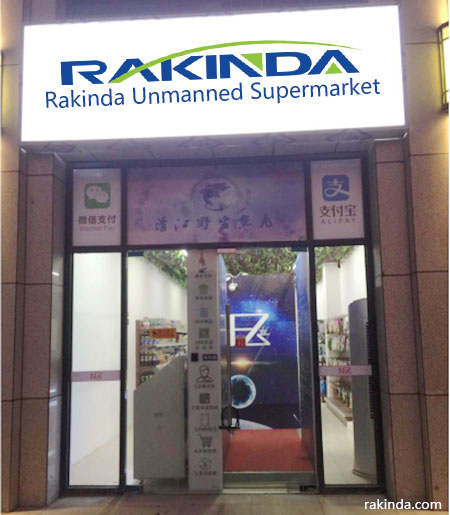 Nowadays, the way that Unmanned supermarket enters is more than two-dimensional code scanning entry and face recognition entry, these two ways are different.In the first entry mode, the scanning window is embedded in Shenzhen

RD4500-20 scanner module

.This module uses the intelligent core decoding technology developed by ourselves, which can quickly read the screen code of the mobile phone at low brightness,and the design of the embedded metal shell is designed for all kinds of self-service terminals.On all kinds of goods, the RFID tag, which represents the sole identity, is used to achieve the full range tracking of products from warehousing to outgoing storage.
Compared with the traditional convenience stores, the vision of

intelligent supermarkets

has greatly reduced human and material costs,an employee can manage a number of unmanned supermarkets at the same time.The vision of the RAKINDA intelligent supermarket's upgrading and upgrading of traditional shops provides strong support for the shopkeeper to get out of the store.
The vision of RAKINDA intelligent supermarkets not only brings freedom to stores, but also provides convenience for consumers.Consumers do not have to worry about staying up late at night and not buying midnight snack.The traditional convenience store has been transformed into a intelligent supermarket and has become a 24 hour open supermarket.
If you have interest and demand,you are welcome to call us.
Shenzhen

RAKINDA

Technology Co., Ltd. is specialized in the development of smart card hardware and software systems, production, sales and operations in one of the national high-tech enterprises. Products are widely used in city card, park area, retail businesses, parking fees, government platforms and other consumer areas. With years of focus on management, innovation and development, the company in the industry
Has a wide range of customer base and industry reputation, to achieve the city card applications and urban bus intelligent scheduling management.
RAKINDA engaged in

barcode technology

research and development for more than 17 years, we have a mature R & D team and overseas markets, we can help you quickly and easily realize unattended dream.