Solution
Application of Intelligent Mobile POS Machine in O2O Industry
Source:Powered | Author:admin | Time:2018-09-28 | Views:249
At present, while the O2O market is booming, China's QR code smart mobile POS machine market is also growing rapidly. Rakinda

S4 mobile pos machine

with thermal printer is good solution for O2O application.
According to the relevant statistics report, about 32 million payment terminals were sold worldwide in 2014, and a large part of them will be converted into smart POS machines in the next few years. Traditional POS only as payment channels, and now the intelligent QR code 2D POS machine can not only through data collection and analysis to provide more value-added services, more can improve the whole the closed-loop O2O consumption, bring new retail channel and consumer experience.
The

handheld android POS terminal

integrates the functions of fingerprint identification, id card reading, qr code scanning and bar code scanning, which greatly expands the application field of POS machine.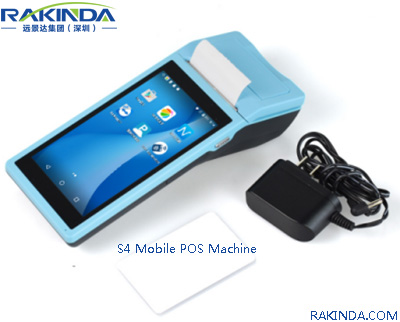 With the deepening of "Internet plus" into the traditional industry and the increasingly mature Internet of things technology, the retail industry will face a good opportunity of transformation and evolve towards a more intelligent, interactive and integrated direction.
Intelligent

POS machine

, digital signage, to realize the intelligent vending machines as the key part of O2O entrance and the important media of "networked virtual stores", will in the line of electric business platform to expand, entity retail online play an important role in the process of osmosis.
Smart takeout pickup, smart cloud POS, handheld android POS, etc. have quickly become the new favorite in the market.