Solution
2D Barcode Scanner PDA Handheld Terminal in the Industrial Application
Source:Powered | Author:admin | Time:2018-09-25 | Views:261
With the transformation of logistics and warehousing, warehousing operations and inventory management operations have become complicated and diverse. The inefficiency, high error rate and high cost of warehousing management based on manual memory and manual entry have become a thing of the past. Instead, the introduction of bar code warehousing has been introduced. Management technology, namely

PDA handheld terminal

barcode scanner. For modern logistics warehousing management, it not only reduces the management cost and labor cost of enterprise and business warehousing operations, but also improves the efficiency of warehousing management operations hundreds of times, and the accuracy, timeliness and inventory cycle of data have been significantly improved.
The PDA handheld terminal, also called

barcode scanner data collector machine

, has an internal structure integrated with a bar code scanning device, an RFID module and a printing module. Just as we visually surveyed at rookie stations, express stations, warehouses, etc., the courier (or warehouse manager) scanned and collected the 1D/2D barcode on the courier or box with a scanning device similar to a mobile phone. And information entry, that is the data collector, it is currently widely used in the retail industry, logistics industry, manufacturing industry and medical industry. That being the case, which one is more suitable for your warehouse management? As an innovative bar code scanning equipment manufacturer, Shenzhen RAKINDA deliberately selected several

PDA data collectors

for readers to choose from.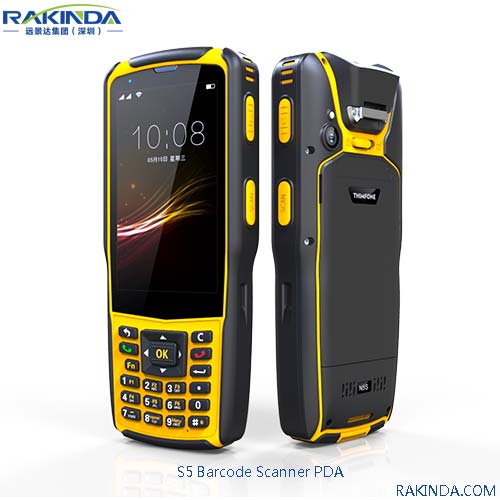 Shenzhen

S5 barcode scanner PDA

is good use for warehouse, it has 4G Full Netcome PDA and dual sim option allowing you to use the most suitable provider available wherever you go,IP67 industrial design , multi-function to meet various application, No matter the environment, S5 offers you a reliable solution. With IP67 sealing, it is highly protected from dust and moisture. The device can withstand 1.5m drop to ground (twice for every surface). The device can work normally after it is dropped into water! It is 4.0" touch screen. S5 supports both dry and moist hands, as well as gloved fingertip touch input. Ideal for use in severe conditions, such as rain, snow, and dust.
Rakinda is a company committed to the development up to bar code technology at the core of the automatic identification system integration organizations, enjoyed several years of industry experience and excellent reputation, in Shenzhen and Hong Kong branches, and has a very skillful, experienced, innovative R & D and after-sales technical support service team.
Rakinda Group, the manufacturer of

barcode scanner module

, was established in 2000. We have offices in Guangzhou, Shenzhen, Hongkong, Xiamen, Suzhou and Beijing. And we have been supplying the barcode scanner module for Walmart, Carrefour and Foxconn etc.