Solution
Android PDA Used in Pharmaceutical Pilot Project
Source:Powered | Author:admin | Time:2018-09-18 | Views:226
In order to ensure the safety of medicines (vaccines), strengthen the quality supervision of medicines (vaccines), strict drug (vaccine) centralized procurement and rational use management, improve the level of medical and health services and administration in conjunction with the medical insurance information system, and promote the city's drug (vaccine) electronic supervision system comprehensively.
According to the investigation, in order to strengthen the cancel after verification and information sharing of medical insurance drugs, medical service providers with medical insurance must implement electronic supervision on the sale of medical insurance drugs, otherwise they would not be reimbursed and settled. The pharmacy's daily out-of-stock verification and warehousing cancel after verification must also collect electronic supervision bar codes.
In view of the management status of pharmacy stores and warehouses, use

Android rugged PDA

to collect electronic supervision codes, and get the

data collection

of medical insurance verification and daily storage and warehousing, and data sharing is performed through wifi and medical insurance platform interface.
Terminal function: pharmacy medical insurance write-off, pharmacy storage scanning, pharmacy out warehouse scanning
1. Cancel after verification of medical insurance:
Download the drug information according to the medical insurance document, scan barcode of supervision, call the drug supervision platform interface to verify the drug monitoring code, and invoke the medical insurance platform interface to submit the medical insurance document after the scanning is completed.
2. Into warehouse scanning: This function is to collect electronic supervision code for into warehouse medicines, and to divide into purchase and return to storage.
3.Out of the warehouse scanning: divided into supply out of the warehouse, drug withdrawal, vaccination, destruction out of the warehouse, sampling out of the warehouse, return out of the centralized operation, according to the selected type of enterprise will enable the corresponding operational type of out warehouse.
The solution relies on the lightweight and durable industrial-grade

handheld terminal PDA

, and uses mature wireless network technology to interact with the background data to realize the real-time and high-efficiency of electronic supervision code collection, and achieves better application value:
1. Accurate and efficient: Scan the drug monitoring code, realize the cancel after verification of the warehouse, and the data is accurate, which meets the needs of drug supervision.
2. Data sharing: By connecting the drug monitoring platform and the medical platform, real-time monitoring code data is used in the medical insurance platform.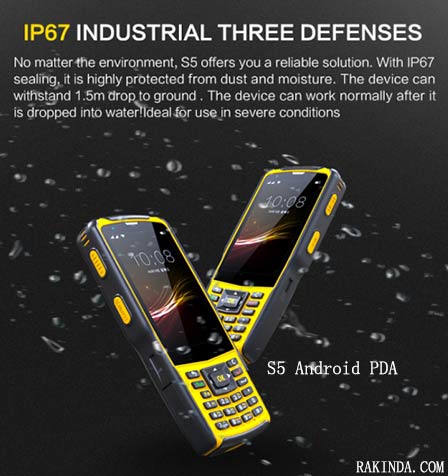 Rakinda is a leading professional

industrial PDA

(industrial handheld terminal) R&D and manufacturing company. It relies on a handheld terminal developed by the national ASIC system engineering technology research center, and integrates PDAs, data terminals, barcode scanners. All-in-one support for data acquisition in 1D 2D barcode scanning, NFC reading, and RFID radio frequency identification. IP67 high industrial protection grade, widely used in logistics and express delivery, manufacturing, public utilities, retail, pharmaceutical, animal husbandry and other industries.