Solution
Portable Wireless Handheld 2D QR Code Scanning Gun for Convenience Store
Source:Powered | Author:admin | Time:2018-09-10 | Views:167
As the rapid development of urbanization, the number of convenience stores has increased, consumer income growth, which provides a better environment for the development of convenience store business.
Convenience stores are set up deeply in residents or crowded areas. The complex business is a obvious feature, and the stores usually use the franchise method, which results in different personnel in the store. Although there is great management power, which can't avoid the conflicts between business and the present technologies.
Accroding to that current problems, Rakinda have developed a POS based operation module, which make the original counter equipment have different effect through the connection with the retail store cordless barcode reader that can be used as a

handheld barcode reader

or a hands-free scanning platform as usual.
The handheld barcode scanner gun improves the difficulties encountered in the daily operation of the convenience store, such as the collection, sale, and delivery of the goods, which is closer to the user's management and cost.

Handheld wireless QR code reader

, it allowed data collection work from the counter to all corners of the convenience store to serve the store directly.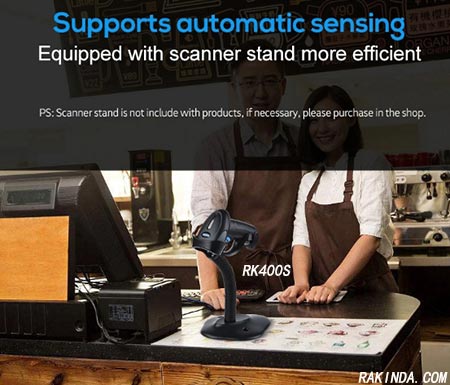 According to the functional requirements, Rakinda, a 18-year-manufacturer of barcode scan engine, PDA and

fixed mount QR code reader

with rich experience and products in the field of bar code recognition, launched

RK400S Wireless Scanner

using the world's leading image capture optical technology, with superior barcode scanning, digital capture capabilities and industry-leading performance and reliability, it can be widely used in the needs of 1D/2D imaging technology flexible and diverse applications.