Solution
New-listing Handheld Barcode Scanner
Source:Powered | Author:admin | Time:2018-08-28 | Views:184
Recently, Rakinda has introduced two kinds of

2D handheld scanners

RK1402 and RK1502 which gain a favorable reputation among customers. They share such common features as exquisite appearance, international quality, anti-seismic, anti wrestling and high performance. Both of them can be used in logistics express, supermarket, cashier warehouse management, medical and health production manufacturing bank, financial government agencies, etc.
The attractive points of

RK1402 barcode scanner

are as below.
Firstly, light sensor double trigger mode. The light sensing module turns on the automatic sensing mode, and when the scanned object approaches the scanning window, the device instantaneously performs fast reading. Secondly, excellent 1D/2D barcode reading performance. The self-developed core decoding technology can quickly read various types of 1D/2D barcodes and various types of large-volume screen 2D barcodes. Thirdly, automatic exposure control. The sensor on the device automatically adjusts the fill brightness according to the intensity of the light reflected from the barcode. Fourthly, 1.5 meters anti-drop. 1.5 meters of cement floor fell every time. Fifthly, IP54 protection level. Prevent foreign matter from intruding and prevent water splashed in all directions from intruding into the equipment and causing damage.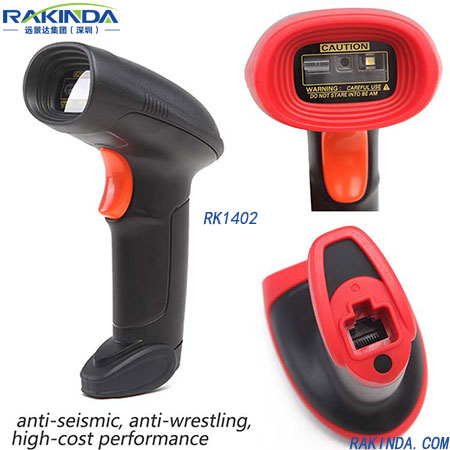 Regarding the

RK1502

, it is a highly performant

2D CMOS cord barcode scanner

. Armed with advanced CMOS recognition technology, it can easily scan 1D/2D code on paper, merchandise and screen. It owns ergonomic design and easy operation. It is easy to scan all mainstream 1D and 2D code on the market. Fast decoding speed and 4mil high precision increase its competitiveness. Also, it easily scans code on paper, plastic and LCD and support multiple languages.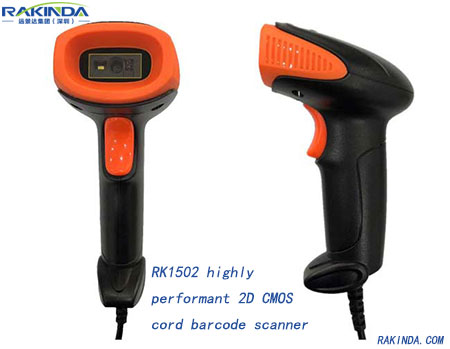 Shenzhen RAKINDA Technology Co., Ltd. is specialized in the development of smart card hardware and software systems, production, sales and operations in one of the national high-tech enterprises. Products are widely used in city card, park area, retail businesses, parking fees, government platforms and other consumer areas. With years of focus on management, innovation and development, the company in the industry has a wide range of customer base and industry reputation, to achieve the city card applications and urban bus intelligent scheduling management.
RAKINDA

engaged in barcode technology research and development for 18 years, we have a mature R & D team and overseas markets, we can help you quickly and easily realize unattended dream.