Solution
Rakinda LVB01A RFID Bluetooth Barcode Scanner
Source:Powered | Author:admin | Time:2018-06-25 | Views:241
With the continuous development of technology and information, mobile phone applications have been widely used by the general public. The transmission of information is more convenient and faster than before. The mobile phone is small and portable, so what functions can the mobile phone use besides calling, texting, and playing games? The answer is mobile office. Through the collection and entry of information through mobile phones, the information transmission and application can be quickly realized. However, in the collection of information, a data collector

Bluetooth barcode scanner

is needed.
The Bluetooth barcode scanner scans the barcode on the goods, and the decoded information is automatically stored in the phone. Convenient data can be viewed at any time and can also be sent to enterprise data collection and management personnel. Convenient and efficient. The Bluetooth barcode scanner is compact and convenient. The mobile phone can be placed on the scanner for multi-function operation. In order to meet the requirements of the current logistics warehousing, data barcode collection, battery life, etc., Shenzhen Rakinda launched the LVB01A Bluetooth.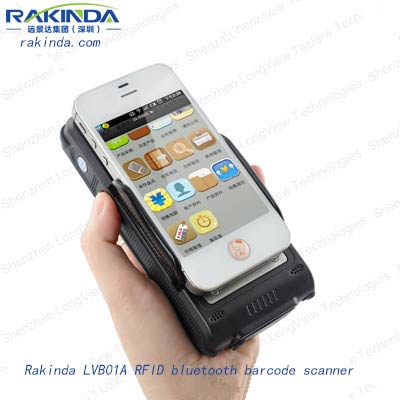 LVB01A

Bluetooth barcode scanner is the world's first portable multi-function scanner, capable of scanning 1D and 2D barcodes and together with RFID; streamlined body type, with a large scan trigger button on the left and right sides for easy one-handed operation; built-in capacity of 3000mAH, you can charge the phone at any time, to meet the outdoor needs of a full day of mobile office power. Top data acquisition module, a variety of reading tips; dust and drop, toast and durable, long life cycle, low replacement cost. Full-featured, powerful performance, become the mobile phone of choice for mobile office products.
RAKINDA

is a company committed to the development up to barcode scanner technology at the core of the automatic identification system integration organizations, enjoyed several years of industry experience and excellent reputation, in Shenzhen and Hong Kong branches, and has a very skillful, experienced, innovative R & D and after-sales technical support service team.
Rakinda Group, the manufacturer of

barcode scanner module

, was established in 2000. We have offices in Guangzhou, Shenzhen, Hongkong, Xiamen, Suzhou, and Beijing. And we have been supplying the barcode scanner module for Walmart, Carrefour, and Foxconn etc. Any questions do not hesitate to contact me as below.