Solution
Rakinda PDA S2 Plus 2D Barcode Scanner for Meter Reading
Source:Powered | Author:admin | Time:2018-06-19 | Views:309
Nowadays

PDAs

Centralized remote meter reading due to high cost, transmission channel restrictions, and other reasons, has not yet reached a large-scale popularity. To meter reading machine for the carrier of the meter reading, with wireless or wired communication, the data will be transferred to the meter reading machine, and then transferred to the meter by the meter to the electrical charging system. Is an effective way to replace the automatic remote transmission of data, but also in line with the current situation of electricity collection, many users still can not do without the meter on the spot monitoring staff.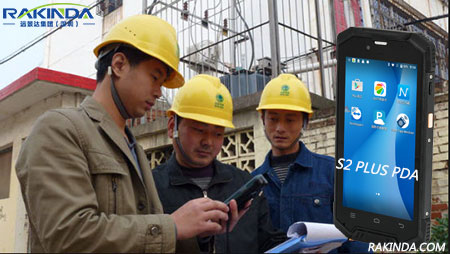 Meter reading system of the mainstream solutions, mainly in the following categories.
(1)meter reading machine meter reading. This approach is mainly applied to the scattered areas of the meter, such as suburbs, rural areas.
(2) centralized meter reading. This approach is mainly applicable to the urban meter-intensive residential areas, commercial and residential buildings, the current Shanghai, Guangzhou and other developed cities have adopted.
(3) automatic remote meter reading. This approach is widely used in developed countries, such as the Israel, Australia, USA national use of remote transmission.
Rakinda PDA S2 Plus 2D

Barcode Scanner PDA

can use in the harsh working environment, and it has the high battery capacity, it has the 5200AMH battery, it will not any problem to work all day long. S2 Plus 2D PDA Barcode Scanner is the Android 5.1 operating the system, and the cause is protection is IP68, waterproof and dustproof,Support 1D scanning Support international general 1d barcode ,such as Code 39,Code 128,Code 93,EAN8,EAN13,UPC-A,UPC-E,Codabar,Interleaved 2 of 5 .
Support 2D scanning Support international general two-dimensional bar code ,such as QR,PDF417,DataMatrix,MaxiCode
Shenzhen Rakidna

become to a large number of electronic systems management enterprises to provide

scanner module

, scanning modules, scanning engines and other products, more than 18 years of research and development experience in the module and scan this become the industry leader! If you would like to know more about the application of the 2d scanner in the self-service terminal, please contact us! We can provide you with low cost, high-performance solutions.