Solution
Rakinda S2 Plus Android PDA Barcode Scanner with NFC to Read E-tickets
Source:Powered | Author:admin | Time:2018-05-22 | Views:331
There are increasingly more people to use WeChat from mobile phone, and the owners have WeChat Official Accounts such as retail, hospitality, transportation, and warehousing. They will need you follow and register then will generate a QR code to read by the scanner to enter into.
The handheld PDA is a product line of Android smartphone PDA' s that combine the complete functionality of an Android smartphone with a 2D integrated

barcode scanner module

. The PDA can be used for reading the code from mobile phone.
The PDA is applied to a variety of environments. The product line is a direct response to the increased demands of versatile Android PDA' s and Smartphones of the market and a product of Rakinda' s focus on constant innovation.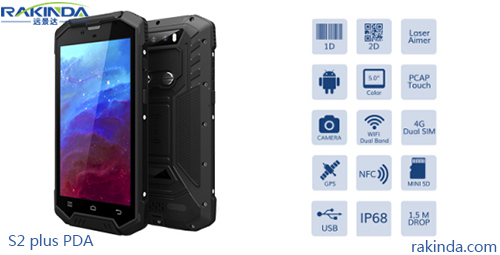 The

S2 Plus PDA

is the ideal solution if you are looking for a PDA with an industrial smartphone design. The device supports a rugged exterior that protects it from inevitable bumps and drops, while the IP68-sealing leaves you worry-free, no matter the environment or weather.
Built to provide exceptional performance and reliability, the S2 Plus is embedded with Rakinda' s high-performance

2D scan engine

. It scans both 1D and 2D code quickly, while a bright laser aiming helps you work accurately and efficiently. The device runs on Android 5.1 OS, providing enterprise-level device management, customization and development possibilities. Dual-band Wi-Fi and a dual SIM option ensure that you can rely on the strongest network connection available at any time. And its 5200mAh large capacity battery, standby is 450 hours, talking is 22 hours.
Rakinda

, a leading manufacturer of

barcode scanner

and Internet of Things in China for 18 years, and we have been developing new projects like self-service store, access control system that is launched already. If have any interests, contact me, please.