Solution
Rakinda RK200 Handheld Wireless Barcode Scanner
Source:Powered | Author:admin | Time:2018-04-27 | Views:309
Rakinda, as the 18-year professional supplier of

Barcode Scanner

. We research and develop the new designed wireless handheld RK200 Barcode Reader.
Please check the features as follows:
1.Wireless and handheld reader in black;
2.USB interface;
3.Reading 1D 2D barcode on paper and 1D 2D QR code on phone;
4.Withstand; the function of stand is to support the scanner, receive the information transferred by scanners and to charge for the reader;
5.The scanner can keep working for 8 hours;
6.The scanner can read the barcode even under weak light;
7.And it is easier to use;
8.Continue reading mode, Sensor reading mode and the reading mode by button are available;
9.Beautiful and fashion design.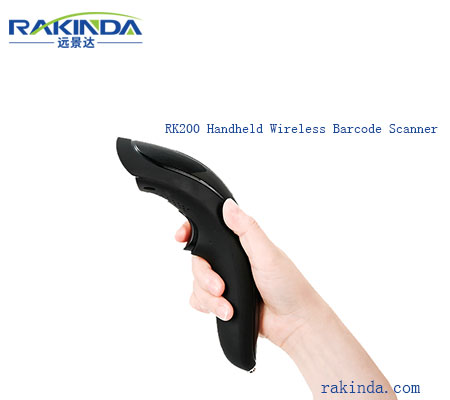 How does

handheld RK200 Barcode Reader

to work?
Firstly, connect the stand with the computer or the software by USB; and at this time scan the barcode by the scanner, the information will be transferred to the computer by the stand, even the scanner is far 10m away from the stand, so the user can use the scanner even he walking around.
These wireless scanners can be used in warehouse to manage the products, shop store, supermarket, even access control system.
One of my Israel Customers uses this

handheld wireless scanner

into their access control system.
And it also perfects to the project of Wechat pay and Alipay.
And there are also many other scanners in my company, mini embedded barcode reader, fixed mount bar code reader,

desktop barcode scanner

, handheld wired/ wireless barcode reader, 1D 2D barcode scanner, phone barcode scanner, Android barcode reader and so on.