Solution
Rakinda Android Smartphone PDA New Arrival---S5
Source:Powered | Author:admin | Time:2018-05-16 | Views:350
Smartphone PDA

has wide application areas: logistics, Warehouse management, chain stores, food traceability, medical, distributor management, manufacturing, and assets counting.
To meet various application, we are always making our effort to launch new models. Now S5 comes.
Customers who have been familiar with our

Android cellphone PDA

know that S1, S2, and S2 plus has the 5-inch touchscreen. If customers like traditional smaller screen, they can choose S5 PDA now.
It is 4-inch touch screen and Android 5.1 or Android 7.0 operating system.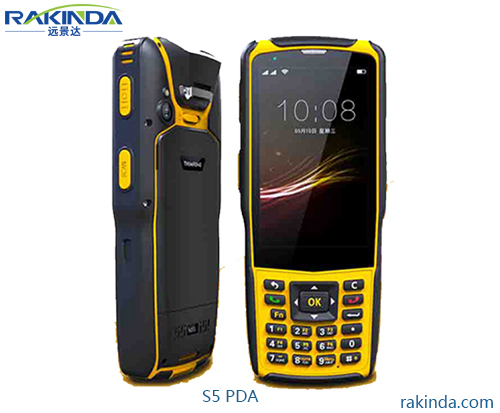 S5 PDA

supports 4G full Netcom and also dual sim option. Wifi, Bluetooth, NFC, and GPS are also its merits. Throw it into the water, cover it in the dust, the IP 67 rated S5 Android smartphone PDA will still work. It has also been tested to operate after the 1.5m drop, and at high/cold temperatures. It is designed to operate in harsh environments, such as:
1.Logistics/Warehouse
2.Data Collection
3.Fieldwork
4.Transportation
Warehouse is an important application area of PDA. For example, we supply PDA for a famous bait company in China. They manage their stock well in details with our PDA.
Also we develop OEM APP for the customer. We have professional staff to develop customized software for customers. They have rich experience and professional attitude.
Rakinda has been a top manufacturer of

barcode scanner

products for 18 years. We learn customers' requirement and do our best to product fit scanners for different applications. Please kindly contact us if you happen to need a portable Android cellphone PDA.