Solution
Rakinda RD4500R Barcode Scanner Module Embedded In Kiosk Project
Source:Powered | Author:admin | Time:2019-01-10 | Views:230
Recently, one of my Italy customer bought our company 3 pieces

RD4500R barcode scanner

as sample for test for his kiosk project. At the beginning, he inquired our barcode scanner and then he told me he wanted to use it for his kiosk project through our further communication,so I recommend our very hot fixed mount barcode scanner RD4500R for him soon. That is because we have many successful cases already for the kiosk, metro, self-terminal device, access control project and so on. Therefore, I can give the customer very fast and very suitable products for him.
And in the next communication, he told me he used Datalogic products before, but their engineer thinks

Datalogic barcode scanner

can not support strong light, but our RD4500R can do it. Our RD4500R can not only support strong light and high temperature, but also can scan paper and phone screen barcode very fast.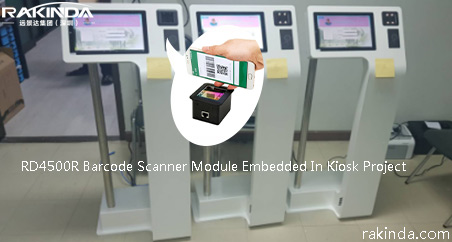 Through this communication with Italy customer, I know that every product has their own advantages and disadvantages. Though some products are very famous brand and has very good performance, but maybe it can not meet all the customer's needs, which will create the possibility for many other excellent goods to exist. And I believe life is not machine-parsable, it always changes at a very fast speed. So we need to constantly do the innovation to change the present situation and challenge the future. In conclusion, brand power is very important, but not all the brand is suitable for your requests, so we should do the choice from many different aspects. And you can see the communication content with the Italian customers from the below screenshot, which is a very convincing evidence for my words. And about this products, not only my Italy customers order it, we also have many different countries customers bought it already and give us a very good feedback with five stars. So dear, friend, if you have any needs or similar projects like I mentioned above, you can choose to use our very popular

barcode scanner module

. I believe you will be satisfied with it once you got it.
Shenzhen RAKINDA Technology Co., Ltd

. is specialized in the development of smart card hardware and software systems, production, sales and operations in one of the national high-tech enterprises since 2000. Products are widely used in city card, park area, retail businesses, parking fees, government platforms and other consumer areas. With years of focus on management, innovation and development, the company in the industry has a wide range of customer base and industry reputation, to achieve the city card applications and urban bus intelligent scheduling management.