Solution
McDonald of Barcode Scanner Self-service Kiosk
Source:Powered | Author:admin | Time:2018-11-29 | Views:191
McDonald's recently introduced a new type of ordering system – the "Create Your Taste" kiosk, that allows customers to order via a touchscreen. After placing an order, all customers have to do is sit down and wait for their meal. This kiosk isn't the first of its kind, however. In Japan, most ramen restaurants have customers order and pay for their meal via a vending machine, again, with the ease of just waiting for their food afterwards.These examples of using machines to expedite the ordering process demonstrates how self-service is replacing the assisted service industry. The self-service industry is rising quickly, with customers preferring to use machines to get their services instead of interacting with an assisted service worker.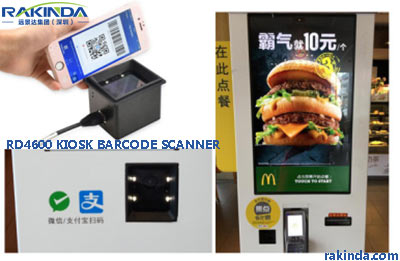 As for the functions of McDonald's Kiosk devices, they generally have touch LCD screens, ticket printers,

barcode scanner module

and RFID readers. Barcode scanner is the most common reading device. The

industrial barcode scanner

can quickly read the printed or screen barcode, and upload the barcodes data to the server background immediately through the network.
Our

RD4600 model qr code scanner

reading close-range printed or screen QR code very fast.It reads close printed or screen barcodes with 5 to 10mil precision.The RD4600

fixed mount barcode scanner

has a interface is USB or RS232. It has aluminum alloy housing and it's industrial grade IP54. Its light source is LED white light and has IR infrared sensing. The operating temperature is -10°C~+50°C and has good thermal conductivity. At the same time,small streamlined design makes it perfect for embedding in the various types of self-service machines to use,like Kiosk,Turnstile and Vending machine,very nice.