Solution
Self-service Terminal And Bar Code Scanner
Source:Powered | Author:admin | Time:2018-09-27 | Views:272
These years, such self-service terminals as self-service ticket machine, self-service ordering machine, self-service lottery machine and self-service juice machine play an important role in our life. Thanks to them, it is not so necessary to wait in line for something that save most of time. Then, how does the self-service machine work?
There is an example of self-service orange juice machine. One man who often go shopping said, self-service orange juice machine has been popular since two years ago. There were many supermarkets laying out several this kind of machine. New things always attract the public. As time goes, an increasing number of people tend to buy the orange juice in the new hi-tech way. It supports wechat or alipay payment. After payment, you can clearly see the process of making juice, so you needn't worry about whether it is clean. Before, people preferred to have an instant drink in milktea store or cafes. It is really unhealthy. In a word, self-service juice machine brings the public much convenience and fun.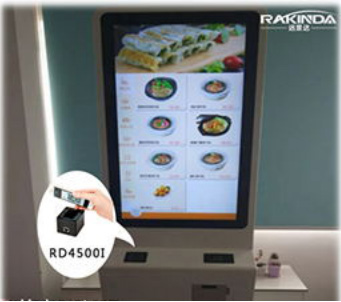 When you see the machine automatically making juice according to the command of payment, you must be curious about the reason. In fact, all of these ascribe to the

barcode scanner module

. Now, you can meet most of self-service terminals embedded Rakinda 4500 series. It is good at reading bar code on mobile phone. Rakinda 4500 series

barcode reader module

owns integrated design and adopts international leading image recognition technology with high performance. The reason why the machine can choose the number of orange according to the amount of money is that we develop the software to control it. Regarding more details about the self-service machine or our bar code scanner, welcome to contact us.
Shenzhen RAKINDA Technology Co., Ltd. is specialized in the development of smart card hardware and software systems, production, sales and operations in one of the national high-tech enterprises. Products are widely used in city card, park area, retail businesses, parking fees, government platforms and other consumer areas. With years of focus on management, innovation and development, the company in the industry has a wide range of customer base and industry reputation, to achieve the city card applications and urban bus intelligent scheduling management.
RAKINDA

engaged in barcode technology research and development for 18 years, we have a mature R & D team and overseas markets, we can help you quickly and easily realize unattended dream.