Solution
Self-service Ticketing Machine with QR Code Reader Gives Customers a New User Experience in Cinema
Source:Powered | Author:admin | Time:2018-07-16 | Views:297
There is a terrible thing to buy tickets at the cinema. It is a long time to be wasted for queuing for tickets if the large number of people watching the movie. With the rapid changes in science and technology, movie theater ticketing has been greatly improved, which gives people a lot of convenience. You can book online and pick a good movie then choose your seat directly. And go to the theater to purchase the ticket, scan the QR code on scanning window after the payment completed from the mobile phone.
It is integrated with the

2d barcode reader

, the ticket vending machine support mobile payment solutions. It only needs to select the movie through the App online and then purchase it with WeChat or Alipay or UnionPay. After payment finished, a QR code will be generated. At that time, you only need to follow the prompts on the screen to open the corresponding QR code at the scanning window to complete the ticket collection process in a short time.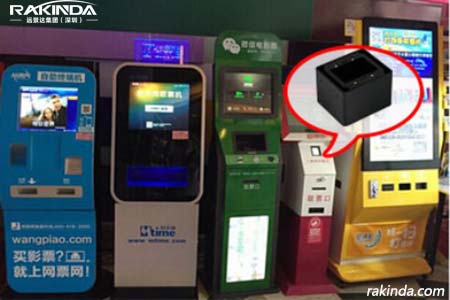 Rakinda

has rich experience and products in the field of bar code recognition. According to the functional requirements of 2d code turnstile, Rakinda launched the embedded 4500 series

fixed mount 2d code scanner

to enhance the code scanning experience. At present, the

barcode scanning module

is widely used in access gates, 2d code access control, self-service ordering machines and other self-service terminals, welcome to consult!