Solution
Kiosk Barcode Scanner Is Welcomed In The Retail
Source:Powered | Author:admin | Time:2018-05-15 | Views:333
RAKINDA is the solution provider for automatically identifying

barcode technology

and is proud to announce the launch of its kiosk barcode solution.
Our

kiosk QR code scanner

as a bar code receiver, which is embedded into a 6-foot-high monitor, is equipped with a 46-inch LCD display that can draw attention to the entire room. The screen bar code for mobile payment or printed bar code for price checker that can even attract the most taciturn passersby. This unprecedented Kiosk solution caters to retail and hospitality but is expected to be the preferred solution for any organization that relies on innovative marketing.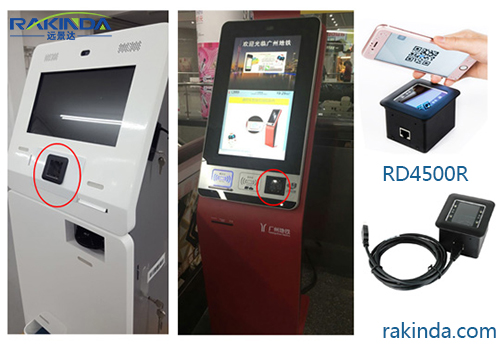 RAKINDA has been working on designing barcode scanner hardware since its inception in 2000. As the kiosk industry has matured. For today's consumers, more convenient mobile payment and barcode scanning is their first choice.
What is a good

kiosk barcode scanner

to recommend for the Kiosk?
RD4500R

2d barcode scanner

has an interface is USB or RS-232. It reads printed or screen barcodes with 5 to 10mil precision. Its light source is LED white light and the Industrial grade is IP65. At the same time, small streamlined design makes it perfect for embedding in the various types of self-service machines to use, like kiosk, turnstile, vending machine, very nice.