Solution
RD4500R Application in Self-service Terminal Equipment
Source:Powered | Author:admin | Time:2018-05-10 | Views:297
Self-service Terminal Equipment has come to pervade every aspect of our lives. It is changing our life in transportation, eating, housing, and all the entertainment.
We no longer need to line up long time to buy a ticket in metro or bus ticket window. We no longer need to wait for the waiter to offer us the menu when we go to the restaurant, we can select the foods directly from the self-service machine. We no longer need to make boarding check in at the counter, and bear the long queue or bad service sometimes, as we can do it easily and happily by self-check-in kiosk.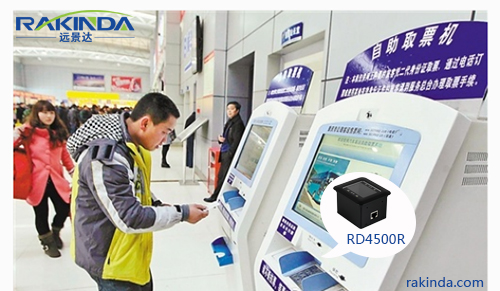 The Self-service Terminal Equipment is made up by the human-computer interface, the users process it according to the tips. The machine manages to do all kinds of business transactions intelligent. Its application has covered the finance, communication, ticketing, transportation, medical, information inquiry, retail trading, mobile payment, catering industry and many other fields.
RAKINDA RD4500R

2d barcode scanner

is designed primarily for such applications as electronic tickets/coupons, mobile marketing, and office automation, the series

fixed mount barcode scanner

is able to read barcodes from paper and mobile phones.
1. Digital barcode data capture.
Capable of reading 1D and 2D barcodes off mobile phones.
2. Printed barcode data capture
Capable of reading 1D and 2D barcodes printed on paper.
3. Swift scanning.
Delivers effortless, snappy and accurate reading of barcodes on various mobile phone LCD screens with different contrast ratios, colors, and reflectances.
4. Easy to use.
Simple configuration by scanning the programming barcodes provided in the user guide.

Shenzhen RAKINDA Technology Co., Ltd

. is specialized in the development of smart card hardware and software systems, production, sales and operations in one of the national high-tech enterprises. Products are widely used in city card, park area, retail businesses, parking fees, government platforms and other consumer areas. With years of focus on management, innovation, and development, the company in the industry. Has a wide range of customer base and industry reputation, to achieve the city card applications and urban bus intelligent scheduling management.
RAKINDA engaged in

barcode technology

research and development for more than 18 years, we have a mature R & D team and overseas markets, we can help you quickly and easily realize the unattended dream.