Solution
Embedded QR Reader RD4600 Applied For Self-service Machine
Source:Powered | Author:admin | Time:2018-01-31 | Views:814
Rakinda has been focusing on barcode solution with rich experience in customized programs.
The past to the hotel on Saturday and Sunday peak not only into the queue, and waiting for check-in and check-out takes a long time, to the guests very bad service experience. But in the future to the hotel check-in can save a series of cumbersome operation, and can be completely independent of check-in and check-out and the issuance of electronic invoices, "Internet + Smart Hotel" can enhance the overall efficiency of check-in and check-out.
This is where RAKINDA is a joint autonomous terminal manufacturer that integrates a suite of embedded hotel check-in scan code solutions. The program to Shenzhen Vision of the production of "embedded scanner RD4500 series of 2d barcode scanner" for scanning code induction accessories, through the embedded hotel self-service machines, guests can complete their identity registration, verification, order processing and scanning code Payment and other functions, so as to obtain a room card and self check out, print electronic invoices.
Compared with the traditional manual check-in hotel, the self-service code scanning service enables the online and offline integration of "Internet +", optimizes the procedures for hotel check-in, improves service level and operation level, and improves people's satisfaction. In addition, LV4500 series of embedded QR code scanner in the hotel check-in self-service applications, combined with the software payment system perfect docking Alipay and WeChat payment interface to meet the diverse payment needs.
In addition, RAKINDA also launched 2d barcode reader can not only provide scan code payment services, while providing support for hotels, restaurants, gas stations provide 5 seconds lightning billing services, hotel guests simply invoice information generated "Billing code", in the two-dimensional code scanning platform to gently sweep the billing information automatically parsing, and enter the billing system interface, providing a one-stop service for the hotel.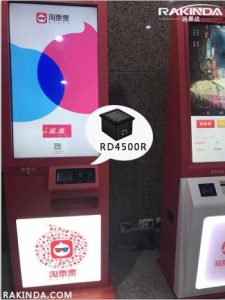 Shenzhen RAKINDA Technology Co., Ltd. is specialized in the development of smart card hardware and software systems, production, sales and operations in one of the national high-tech enterprises. Products are widely used in city card, park area, retail businesses, parking fees, government platforms and other consumer areas. With years of focus on management, innovation and development, the company in the industry
Has a wide range of customer base and industry reputation, to achieve the city card applications and urban bus intelligent scheduling management.
RAKINDA engaged in barcode technology research and development for more than 17 years, we have a mature R & D team and overseas markets, we can help you quickly and easily realize unattended dream.