Solution
4500L 2D Barcode Scanner Module Using In Highway
Source:Powered | Author:admin | Time:2018-12-25 | Views:139
As we know, the best distance for the high-speed toll station mobile phone WeChat Alipay scan code payment is 25cm-100cm (field test) in the high way. In view of the actual scanning distance requirements of high-speed toll stations,

Shenzhen Rakinda

has specially upgraded the scanning code payment module to optimize the scanning distance, angle and fill light effect, ensuring that it can easily identify different screens of contrast, color and reflection. Paper code.
The high-speed toll station scanning terminal embedded scanning code payment module, combined with high-speed toll station payment system, integrates Alipay, WeChat and other scanning code payment channels, and further enhances the digitalization and intelligence level of transportation.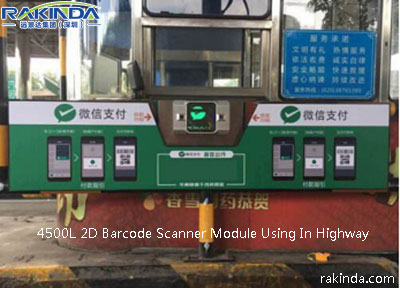 Shenzhen rakinda RD4500L fix mounted scanner

2D barcode scanner module

, Now RD4500L long range scanner will be a good solution for you.They look so similar in appearance between

RD4500L long range barcode scanner

and RD4500I, actually, their scanning camera is different, RD4500L has longer reading distance. Its cost is reasonable and affordable, while its low cost does not compromise its good performance in scanning mobile phone screen.
Compared with the traditional cash payment, the scanning code payment stream simplifies the operation process, and does not need to pay for the change. It only takes a few seconds to complete the payment, that is, avoiding the problem of change of cigarettes and the risk of counterfeit banknotes, and greatly alleviating the "customs clearance" on the expressway during peak hours. "pressure, As a high-speed toll station scanning code payment module application solution provider, Shenzhen Rakinda specially launched the 4500L embedded

mobile phone QR code payment scanning module

, combined with scan code payment and mobile internet technology, to provide for the future "traffic city" creation and urban transportation work. Technical support, thus promoting the smooth flow of the "big artery" of smart transportation.
Since 2000, Shenzhen RAKINDA Technology Co., Ltd. has a deep background in embedded scanning modules, automated scanning equipment scan code module, scanning engine], and smart device development, and rich industry experience, including bus scan code collection, Self-service terminals, handheld devices, unmanned supermarkets, highway far-distance scan code payment, etc. have absolute experience and solutions, and become the leader of IoT applications in bar code scanning modules!

Barcode scanning solution

provider - Shenzhen RAKINDA Technology Co., Ltd.invites smart equipment R&D and operation companies to cooperate and win-win, providing customers with quality solutions! If you are interested in such applications, please contact us to discuss!