Solution
Shenzhen Rakinda Passport Reader PR100 for Travel Agency
Source:Powered | Author:admin | Time:2018-09-11 | Views:213
With the current economic development of our country and the improvement of people's living standards, more and more people will take time to go around, relax their moods and get close to nature in the aftermath of intense work. If the time is short, you will usually choose to travel around. If you have longer holiday, you will choose to travel within the country or go abroad. The choices are also varied. Today we are not introduced you a place have fun, but recommend a machine for the travel agency's friends to manage the tourist information - the electronic

passport reader

.
Passport Information Quick Entry Device

E-Passport Reader

is a lightweight and beautiful document reading device equipped with a high-definition 3 megapixel imaging system that uses TH-OCR technology to identify multiple identification documents. It can read travel documents such as e-passports and visas that meet the ICAO DOC 9303 standard, and can be equipped with a domestic second-generation card reader to expand the application field. Supports automatic triggering of documents, easy to operate, and is very suitable for applications in border checkpoints, customs, airports, immigration authorities and other places. After the introduction of the travel agency passport entry system, the correct rate of passport information has been greatly improved, the extraction time has been significantly reduced, and the travel processing process of the travel agency has been simplified.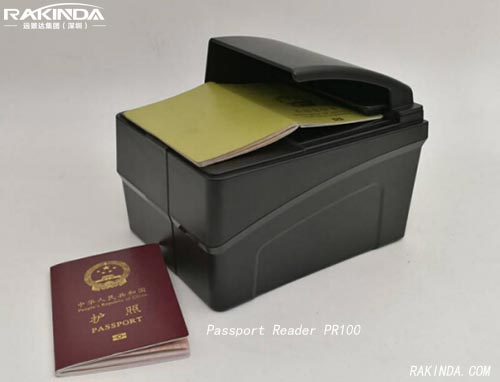 Shenzhen Rakinda can provide

PR100

,The PR100 is a full-page, multi-illumination e-Passport reader. Contactless reader. It provides perfect solutions for scanning passport, e-passport, visa and other Electronic Documents & Paper Documents, ISO14443 TYPE A/B/C & NFC smart card, which make it can be applied to the variety of industries.Printed data is extracted from the entire data page, from MRZ (1~3 Line), OCR and 1D(Code 128, Code 39, EAN, UPC), 2D(QR,PDF417, Data Matric Aztec )barcode, while digital data from contactless ICs. Multiple illumination sources: visible, IR and UV are available.It is widely used for applications such as Customs、 Border crossings、 Electronic ID、e-Passport、 e-Banking、 e-Commerce、 Duty-Free Shop、 Travel agency、 Hotel、 Consulate…
Rakinda

is a company committed to the development up to bar code technology at the core of the automatic identification system integration organizations, enjoyed several years of industry experience and excellent reputation, in Shenzhen and Hong Kong branches, and has a very skillful, experienced, innovative R & D and after-sales technical support service team.
Rakinda Group, the manufacturer of

barcode scanner module

, was established in 2000. We have offices in Guangzhou, Shenzhen, Hongkong, Xiamen, Suzhou and Beijing. And we have been supplying the barcode scanner module for Walmart, Carrefour and Foxconn etc.