Solution
Bus payment terminal-RD300
Source:Powered | Author:admin | Time:2018-07-20 | Views:303
In daily life, we always revolve around the big central point of eating, drinking, living and travelling. When it comes to eating and drinking, the first word that emerges should be shopping, but the current shopping methods have undergone major changes with the changes of the times. Mobile payment has become an integral part of people's lives. When it comes to travelling, it must be reminiscent of transportation – buses. Buses are a means of transportation when people travel. We can choose to use cash and bus card to pay for travel expenses, but the bus card requires real name certification and involves the purchase, report the loss. On the one hand, with problems such as operational capability, it is difficult to meet the requirements of large passenger flow operations. On the other hand, the efficiency of recharging and payment is low. There are certain limitations by using bus card. However, cash payment methods also have deficiencies. It requires people on the move to prepare for changes, and it will cause inconvenience to the change of bus, subway and banking institutions. In this era, the development trend of mobile phone scanning code to pay bus fees came into being -

RD300 bus payment pos

is such a bus-one machine with bar code automatic identification technology. It can be embedded in mobile phone payment business card products.
RD300

bus payment terminal

integrates Alipay/WeChat scan code payment and NFC payment. It uses information technology to perfectly interpret the "Internet+" brand new "quick payment" service experience, helping the "intelligent bus" achieve new breakthroughs. This device can scan 2D code, printed or screen code, IC card and UnionPay quickly. Passengers can use "WeChat, Alipay" and other 2d code payment. In addition to 2d code payment, it can support credit card payment and other payment methods.

RD300 bus payment device

not only can help customers solve the problem of exchanging changes but also can make people forget the trouble with the card. And with the amount of statistics, passenger payment time statistics and other functions that allow customers to pay for information at a glance. Using RD300 can help bus companies reduce the cash flow of the inventory workload and the bank charges to reduce the loss with the residual coins, counterfeit money.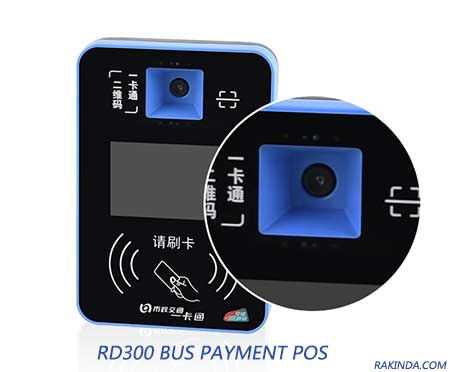 Shenzhen RAKINDA Technology Co., Ltd. is specialized in the development of smart card hardware and software systems, production, sales and operations in one of the national high-tech enterprises. Products are widely used in city card, park area, retail businesses, parking fees, government platforms and other consumer areas. With years of focus on management, innovation and development, the company in the industry has a wide range of customer base and industry reputation, to achieve the city card applications and urban bus intelligent scheduling management.
RAKINDA

engaged in barcode technology research and development for 18 years, we have a mature R & D team and overseas markets, we can help you quickly and easily realize unattended dream.