Solution
One Stop Solutions on Bus for QR Code Type A&Type B Card--RD300
Source:Powered | Author:admin | Time:2018-06-15 | Views:347
Barcode scanners

are widely used in different areas. Its usage becomes more and more abundant. Some come out to make payment ways that have more multiple choice. All things changed and improved in order to make people's life more convenient and labor saving. Shenzhen Rakinda, always standing at people's perspective and side observe the society and developed new products to change the life of human so that the society can make progress continuously.
Several years ago, you can see there are many bus ticketing seller on the bus and they have one hand-held bar code scanner in hand. And how much payment need to pay according to the distance. But how much payment we need to pay that is operated by the ticket seller. We always do not know how much will be less in our bus card. So it will make people unsafe. And sometimes people will forget to bring bus card and small exchange,but almost no case that people will forget to bring mobile phone. Hence, Rakinda Technology Co., ltd dare to be the first. According to a series of research and development, Rakinda created one new model RD300 which widely be used in the bus. Now you can check bus in Shenzhen, you will find that now bus fare payment has various ways. One is cash, the other is scanning bus card and the last way is scan QR code.
Now few and few buses have no ticket seller as no need human labor, and practically speaking labor can be released.

RD300 bus payment pos

can scan 2D code, printed or screen code, IC card and UnionPay quickly. Passengers can use "WeChat, Alipay" and other 2d code payment, in addition to 2d code payment, both credit card payment and other payment methods. Not only can help customers solve the exchange change and forget the trouble with the card; and with the amount of statistics, passenger payment time statistics and other functions that allow customers to pay for information at a glance to help bus companies reduce the cash flow of the inventory workload and the bank charges to reduce the loss of the residual coins, counterfeit money.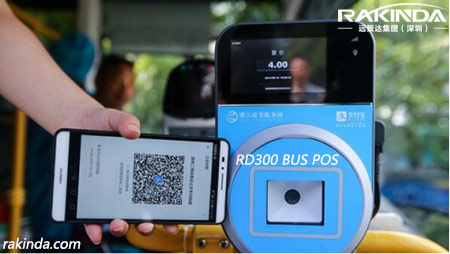 A variety of

barcode scanner module

that Rakinda Technology can provide an easy to be embedded. As Rakinda Technology has more than 18-years manufacturing experience for barcode scanner, which already has professional research and development team.
Shenzhen RAKINDA Technology Co., Ltd. is specialized in the development of smart card hardware and software systems, production, sales and operations in one of the national high-tech enterprises. Products are widely used in city card, park area, retail businesses, parking fees, government platforms and other consumer areas. With years of focus on management, innovation, and development, the company in the industry.
Has a wide range of customer base and industry reputation, to achieve the city card applications and urban bus intelligent scheduling management.

RAKINDA

engaged in barcode technology research and development for more than 18 years, we have a mature R & D team and overseas markets, we can help you quickly and easily realize the unattended dream.