Solution
Fashionable Desktop QR Reader For Mobile Payment
Source:Powered | Author:admin | Time:2018-12-06 | Views:153
It is more and more common to see the

scanning equipment

that can be seen everywhere in the restaurant, the front desk of a hotel or a travel agency. The different designs are very novel, and the words "WeChat payment and Alipay" are on the door.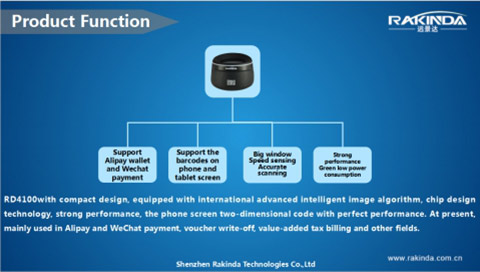 RD4100

desktop barcode Scanner

with the meeting 2D checking-in system, open the Internet era of meeting ticket new skills. The organizers provide 2D customized invitation letter by sending to the guest phone and connect the system for the guests , or open the WeChat public number "on-site invitation" channel, the guests only need to concern about the public number ,then they can enter the personal information to obtain 2D invitations .
1. Alipay wallet and Wechat applications
2. Catering / hotel O2O terminal applications
3. 2D and Electronic membership card applications
4. VAT lightning billing applications
5. Theater ticket of 2D barcodes applications
6. Conference sweep check-in applications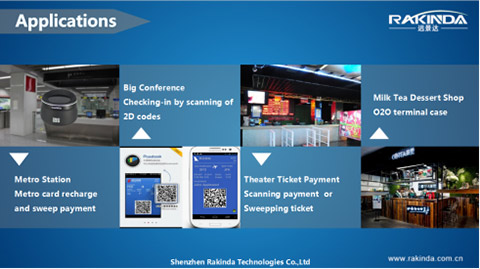 Shenzhen RAKINDA Technology Co., Ltd

. is specialized in the development of smart card hardware and software systems, production, sales and operations in one of the national high-tech enterprises. Products are widely used in city card, park area, retail businesses, parking fees, government platforms and other consumer areas. With years of focus on management, innovation and development, the company in the industry
Has a wide range of customer base and industry reputation, to achieve the city card applications and urban bus intelligent scheduling management.
RAKINDA engaged in

barcode technology

research and development for more than 18 years, we have a mature R & D team and overseas markets, we can help you quickly and easily realize unattended dream.