Solution
World Payment Report 2018: China's Cashless Payment Ranks in the Top Three
Source:Powered | Author:admin | Time:2018-11-30 | Views:166
Recently, consulting and technology services company Capgemini and BNP Paribas have compiled and published the World Payments Report 2018. According to the report, in terms of the total number of

cashless payment

during the statistical period, the United States topped the list with 148.5 billion times, the Eurozone ranked second with 74.5 billion, and China ranked third with 48 billion.
The report also shows that China's non-cash transactions rank second in the world in terms of growth in total settlement share. In addition, the report predicts that under the leadership of Alipay and WeChat payment, China's digital payment power cannot be ignored. By 2021, China's total cashless payment will surpass the United States and become the world's number one.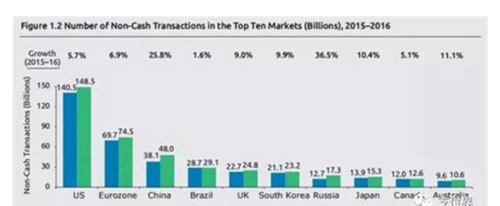 In terms of per capita number, Sweden has surpassed the United States to become the country with the highest number of non-cash payments per capita. During the statistical period, the Swedes conducted an average of 461.5 electronic transactions, an increase of 13% over the previous year; Americans per capita traded 459.6 electronic transactions, 1.9 fewer than Sweden, and the growth rate was only 5.2%. The report predicts that Sweden will continue to maintain rapid growth and continue to be the first in non-cash payment countries in the short term. Although China is not in the forefront, the growth rate is huge.

With the rapid growth of mobile payment,

barcode scanner module

becomes an necessary part of transaction. As a leading manufacturer and supplier of barcode reader in China, Rakinda can provides all kinds of barcode scanners. Please visit our website for details:

www.rakinda.com

.