Solution
RD8402V 2D Desktop Barcode Scanner New Recommendation
Source:Powered | Author:admin | Time:2018-11-28 | Views:146
As the competitive pressures of all walks of life continue to intensify, the Internet of Things is no exception. They need to think about how to develop new products every day and open up new markets. They always focus on cultivating R&D and sales teams. Customers and market products and services, QR reader needs have just begun in foreign countries, they have many advantages, and most importantly, they have won the opportunity, so today I want to share with you the Internet of Things leader company Rakinda's new product is attracting more attention - RD8402V

2D deskstop scanne

r

with very cute looking design.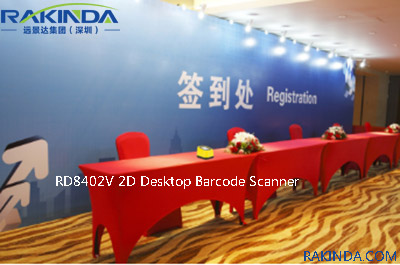 RD8402V

desktop barcode scanner

is a high performance barcode platform with leading CMOS image recognition technology and intelligent image recognition system. It can scan universal 1D 2D codes, read the paper, goods, screens, other media barcodes. Compact design, beautiful appearance with efficient reading performance, provide users with excellent experience.
Features
☆ Ultra-sensitive auto sense scanning.
☆ Read all mainstream 1D 2D barcodes in the market easily.(10mil)
☆ Interface:USB
☆ Support language broadcast customization.
☆ Widely used in supermarket , mobile payment , Metro gate,lockers.
Application
▅ Mobile payment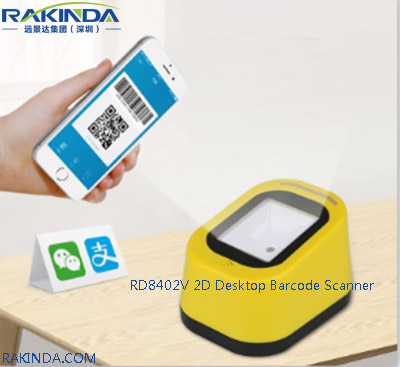 I have several major customers who have bought this product, and the feedback is very satisfactory. They hope that they can continue to promote the market share of this product in the local market. I am very happy to find rakinda, and I am glad that they can develop such a good one. The product fully considers the convenience and efficiency of the customer's use, and also ensures the quality and performance of the product. It is really a product worthy of more people to know. Anyway, I will continue to help customers to purchase more from here. Long-term stable cooperation.
Shenzhen RAKINDA Technology Co., Ltd

. is specialized in the development of smart card hardware and software systems, production, sales and operations in one of the national high-tech enterprises. Products are widely used in city card, park area, retail businesses, parking fees, government platforms and other consumer areas. With years of focus on management, innovation and development, the company in the industry
Has a wide range of customer base and industry reputation, to achieve the city card applications and urban bus intelligent scheduling management.
RAKINDA engaged in

barcode technology

research and development for more than 18 years, we have a mature R & D team and overseas markets, we can help you quickly and easily realize unattended dream.