Solution
Mobile Payment Services Account for 70% of Online Payment in China
Source:Powered | Author:admin | Time:2018-05-29 | Views:373
The China Payments Clearing Association released the"China Payments Clearing Industry Operations Report (2018)" in Beijing on April 28th. The "Report" shows that in 2017, the proportion of internet payment and

mobile payment

services of non-bank payment institutions accounted for 26.9% and 73.1% of the total amount of online payment services, compared with 51.6% and 48.4% of 2016, the proportion has increased significantly.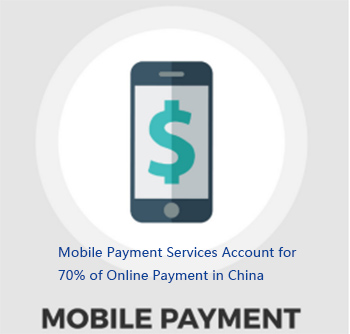 According to the "Report" data, in 2017, the country handled more than 160 billion non-cash payment services, amounting to more than 3,750 billion yuan, an increase of 28.59% and 1.97% year-on-year, respectively, with a slight slowdown in the number of transactions and slower growth in the amount of money. Non-cash payment transactions tend to be small at high frequencies.
The "Report" pointed out that in 2017, the emerging payment business continued to grow rapidly. The scale of mobile payment services continues to grow rapidly. Last year, domestic commercial banks handled a total of more than 37.5 billion mobile payment transactions, amounting to more than 202 trillion yuan, an increase of 46.06% and 28.80% year-on-year respectively.
"Report" shows that this year has also increased the

barcode payment

related business data analysis. In 2017, mobile barcode payment was rapidly popularized, which promoted the penetration of mobile payment from online to offline, and the transaction volume continued to expand. In the whole year, non-bank payment agencies handled more than 7.3 billion barcode payment services, with a total value of 910 billion yuan, accounting for 99.93% of the total consumption. Thus, more and more shops and stores begin to use fast speed QR code scanner, either

handheld barcode scanner

or desktop barcode scanner.
Rakinda Group, as a leading supplier of Auto-ID products, has the big market share in the barcode scanning field. Rakinda RD4100 is a desktop 2D barcode scanner with excellent performance in reading phone screen QR code.