Solution
RD4100 QR Code Scanner Is Very Popular In The Restaurant
Source:Powered | Author:admin | Time:2018-05-08 | Views:331
Whether such well-known brands KFC or McDonald's fast food restaurant, famous brand Starbucks coffee shops, has been gradually accessed to the

mobile payment

, even some bar club through mobile payment terms to attract consumers to consume. Prove it all, the restaurant industry is actively trying to mobile payment, also want to take advantage of this new type of payment method to improve the former cashier system and improve the consumer experience, to stimulate the weak repast market, finally realizes the increase of the business turnover.
The easiest way for mobile payment now is to pay for a card swipe and a screen QR code from the mobile phone. You sometimes go out and forget your bank cards, and you rarely forget to bring your mobile phone, because it is a good payment tool. Consumers via mobile phone third-party payment APP client software, to generate the screen QR codes and let the store

QR code scanner

to scan your mobile phone payment QR code, the whole process doesn't take 5 seconds to complete of payment.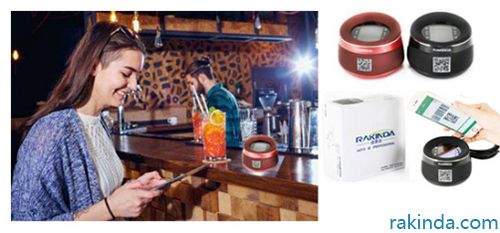 Which desktop QR code scanner is popular in the restaurant industry? RAKINDA's sleek and high-performance QR code reader is a good example. The model RD4100

desktop QR code scanner

, it is lightweight, the appearance is simple and color-rich characteristics is popular with young people like and hot. RD4100 reads the QR code with excellent performance, and reads fast the QR code at close range because it has the IR physical sensor chip, which can read the QR code of the mobile phone very well even in dark conditions. Especially in the dim light bar club, performance is particularly outstanding. The

RD4100

provide customers with a more user-friendly experience.