Solution
People can Scan Alipay Payment Code in Sapporo Snow Festival in Japan
Source:Powered | Author:admin | Time:2018-04-26 | Views:382
The Executive Committee of the Sapporo Snow Festival in Hokkaido, Japan, has launched a new initiative to introduce China's

mobile payment

, Alipay, and Wechat Payments, to 29 catering outlets in the "Dalong meeting place", one of the main venues of the Snow Festival.
The payment code displayed on the smartphone is scanned to complete the payment without cash by the stores from visitors who attend the Snow Festival. In addition to helping shopkeepers improve efficiency, it also hopes to stimulate the needs of visiting Chinese tourists.
Besides, if in order to accumulate consumption data settled by using a smartphone, which is also possible to grasp the data accurately, types of goods and the types of products purchased that are used by visitors visiting Japan. After the next year, it is possible to open more shops welcomed by the visitors on the survey day or to use the data for product improvement, and it is possible to further increase the spending of tourists visiting Japan through the Sapporo Snow Festival.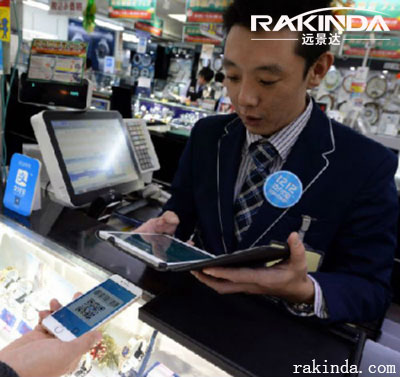 With the popularity of smartphones, there are increasingly more people to use, especially among in young people, they need phone all the time. Such as shopping, entrance door, by bus or metro etc by phone.
Rakinda, a leading manufacturer of the

barcode scanner

in China for 18 years, launched 4500 series

fixed mount QR code scanner

that can be integrated into kiosk, vending machines, access control devices or turnstile and handheld barcode gun to scan screen code professionally with high performance and it can read barcode even in low brightness.
There are lots of successful application cases in

Rakinda

, if you have any questions or interests, don't hesitate to contact us.