Solution
Australian Cab Giant, Cabcharge Announced the Acceptance of Alipay
Source:Powered | Author:admin | Time:2018-04-18 | Views:365
As the number of Chinese tourists traveling to Australia continues to rise, Australian businesses are also beginning to increasingly favor the popular mobile payment methods in China. Australia cab electronic payment giant Cabcharge announced that the company has reached a cooperation agreement with Alipay that will be on a taxi in Australia to pay the fare.
More than 8,000 merchants accept Alipay payment currently and Cabcharge is the newest addition in Australia and New Zealand. Cabcharge hopes the move will boost the competitiveness of the traditional taxi industry while making it easier for more Chinese tourists to travel in Australia.
Cabcharge will launch a pilot project firstly and post 2d code information from Alipay on part of the taxi in cooperation with and the passenger can scan the code to pay for the goods. If the trial is successful, the company will officially launch the service on more than 20,000 taxis throughout the country. In addition, Cabcharge also intends to use Alipay to promote and push notifications to users when passengers arrive in Australia. Cabcharge, Australia's largest taxi electronic payment company, cooperation with Alipay, there will be 22,000 taxis to support Alipay payment, which accounted for 97% of the total number of taxis in Australia.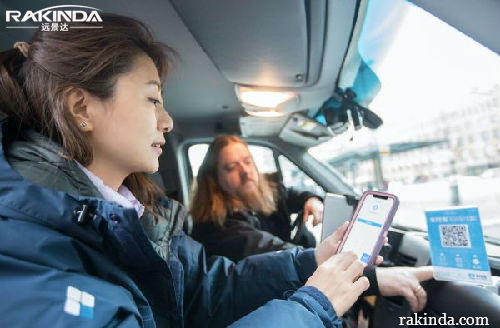 Following the visit of Rovaniemi Taxi from Santa Claus Village to Alipay, Taxi Company of Finland announced that about 1,250 taxis, of the company, will fully open Alipay collection service during the Spring Festival last week. In recent days, Taiwan Metropolitan convoy also announced the addition of 4,000 taxis to access Alipay, and taxis supporting Alipay already account for 30% of the total in Taiwan. In addition, before the Spring Festival, Hong Kong 1/5 taxi will be able to pay with Alipay and AlipayHK.
Australia, Finland, the United States and Taiwan, Alipay has accessed tens of thousands of taxis in 11 countries and regions overseas now. In fact, not only taxis but also Alipay are continuously increasing the layout of the world's travel field in order to facilitate the travel of domestic tourists to their destinations. As of January this year, more than 50 cities already have buses or subways supporting Alipay vehicles in China.
Rakinda

, a leading manufacturer of

barcode scanner

, can supply you a whole solution, and the devices that embedded into fixed mount QR code scanner to scan screen code quickly. If have any interests, don't hesitate to contact us.