Solution
Barcode Scanner Module LV3296 Embedded Into Mobile Medical PDA
Source:Powered | Author:admin | Time:2017-10-12 | Views:636
With the development of information technology, mobile medical equipment is widely used by more and more doctors and nurses.Wristbands bar code scanning system was established in handheld PDA devices. The LV3296 model small

barcode scanner module

is a good choice for embedding into mobile medical PDA for 2D code recognition.Thus, you can achieve the automatic consultation and the collection of bedside care information.
This medical model not only greatly improves the efficiency of care,but also provide people with convenient medical services, promoting the healthy development of the health care industry.
It is understood that the nurse scanning barcode from patient's wristband by using medical PDA.The patient's personal information can be accurately taken, and the conventional information of measured body temperature, blood pressure can also be recorded directly.
This solution not only reduces the potential risks of medical care, but also for the nurses, they can spare more time for the patient service.The LV3296 model small qr code scanner as a most core of the information collection accessories in

handheld PDA

,it has strict requirements of the accuracy and efficiency of data collection, avoiding errors in data collection and lead to medical malpractice.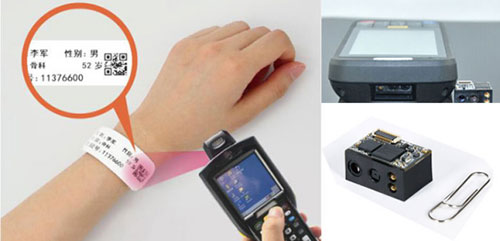 Products Recommended:
1.LV3296 2D

Small Barcode Reader Module

- Can be embedded into Mobile Medical PDA
LV3296 has a interface is TTL232 and it weighs only 5 grams and fits easily into even the most space-constrained equipments and the small size such as data collectors, meter readers, ticket validators and PDAs.Low current draw of the devices allow the modules to be integrated with minimal mechanical modifications.The

LV3296

also features an industrial grade sensor with no moving parts to wear out and the product is carefully designed based on years of industry knowledge for easy integration into OEM devices.