Solution
Fixed Mount 2D QR Code Scanner Embedded into Turnstile to Enter Barrier
Source:Powered | Author:admin | Time:2019-02-27 | Views:651
In the popular era of scanning code, the mobile phone is not just a mobile wallet, but also an unimpeded traffic card. Dock the mobile payment code data collected and 2D code checking ticket turnstile system and mobile payment system so as to achieve the "scan code to check" function in the cities.
The barriers are embedded with

barcode scanner module

, combined with 2D code electronic ticketing system and the integration of code scanning ticket function module, which not only enrich the level of tourism services, but also enhance the degree of tourists experience that can make the park achieve intelligent management forward a big step.
People bought the tickets online by mobile phones or computers, 2D barcode tickets will be sent to the phone by the system after booking successfully. As long as the audience just needs put the ticket onto the

2D code scanner engine

of the smart turnstiles so as to save the time of the queue to buy tickets and check .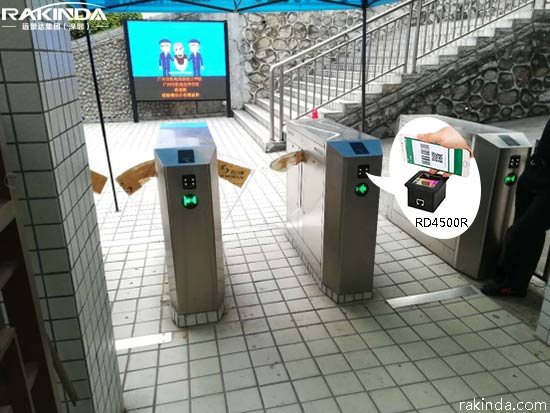 Rakinda, a leading

manufacturer of barcode scanner

, OEM scan engine, devoting to offering customers the whole solution of the technology and industrial application cases. They have rich experience and products in the field of bar code recognition.
According to the functional requirements of 2d code turnstile,

Rakinda

launched the embedded 4500 series 2d QR code scanner to enhance the code scanning experience. At present, the

2d barcode scanner module

is widely used in access gates, 2d code access control, self-service ordering machines and other self-service terminals, welcome to consult!