Solution
RD4500-20 QR Fixed Mount Scanner Using in Smart Turnstile
Source:Powered | Author:admin | Time:2019-02-20 | Views:126
Compared with the traditional gate machine, the intelligent gate machine with built-in scanning code module integrates data acquisition and barcode recognition technology on the basis of the original system such as ticket checking/access control, which is widely distributed in station subways, park scenic spots, commercial buildings, Scenes that can be seen everywhere in life such as community apartments.
In view of the upgrade and transformation of the traditional channel gate, it not only reduces the manual management cost, but also meets the demand of large passenger circulation, and alleviates the pressure of the gate inspection during peak hours. It also solves the drawbacks that traditional cards cannot be real-named, and it is easier to implement the control of the passers-by and the user experience.
However, it is worth mentioning that not all types of scan code components are suitable for use in gate equipment. The RD4500-20, a new mainland

fixed Mount Barcode QR Scanner

is very suitable for in smart turnstile.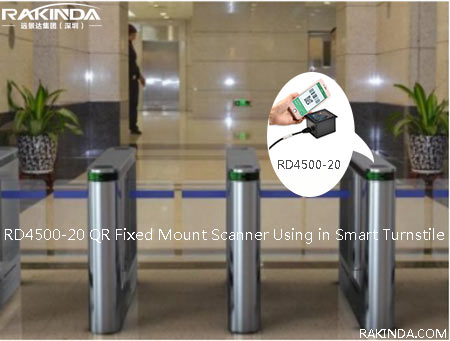 RD4500-20 barcode reader module

not only has an ultra-feeling integrated industrial design appearance, but also facilitates the use of embedded gates. More importantly, it uses the core decoding technology developed by itself. The wide field of view can easily read the paper ticket code and the large amount of mobile phone screen code. The high-speed reading performance can meet the peak traffic. Personnel pass; no matter day or night, as long as the object being scanned is close to the scanning window, the device can be instantly activated and quickly read; also has perfect command control function, all working parameters can be debugged according to requirements. As a result, it has been enthusiastically sought after by major manufacturers.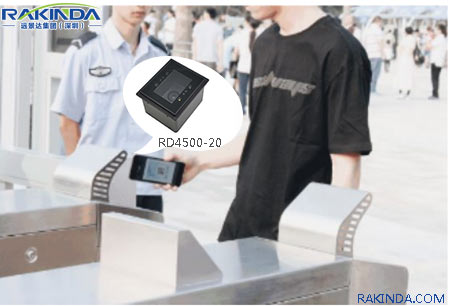 A variety of

barcode scanner module

that Rakinda Technology can provide and easily to be embedded . As Rakinda Technology has more than 18-year manufacturing experience for bar code scanner, which already has professional research and development team. More details , pls contact us!
Shenzhen RAKINDA Technology Co., Ltd

. is specialized in the development of smart card hardware and software systems, production, sales and operations in one of the national high-tech enterprises. Products are widely used in city card, park area, retail businesses, parking fees, government platforms and other consumer areas. With years of focus on management, innovation and development, the company in the industry.
It has a wide range of customer base and industry reputation, to achieve the city card applications and urban bus intelligent scheduling management. RAKINDA engaged in

barcode technology

research and development for more than 18 years, we have a mature R & D team and overseas markets, we can help you quickly and easily realize unattended dream.