Solution
Smart Parking Lot and RD4500L
Source:Powered | Author:admin | Time:2018-07-14 | Views:358
The times are going ahead; technology is developing. And the parking lot is moving closer to the smart parking lot. Not long before, more than 3,000 parking lots in the Ming Wall in Xi'an Province China have adopted self-service paying. Nowadays, with the change of people's patterns of paying, scanning the QR codes to pay is the most popular payment method. Many parking lots across China have been driven by this tide to change their way of paying. Smart self-service payment machines embedded with

two-dimensional code recognition engines

have been introduced in parking lots.
The

RD4500L long-distance scanner

has been perfectly implemented into the smart parking project. It has excellent hardware decoding technologies. Compared to the soft decoding, scanning speed and accuracy is more stable; it can read codes even in the lowest brightness. They look so similar in appearance between RD4500L and

RD4500I barcode reader

. Actually, their scanning camera is different, RD4500L has longer reading distance. Its cost is reasonable and affordable, while its low cost does not compromise its good performance in scanning mobile phone screen.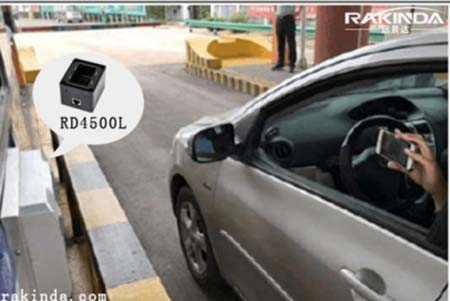 RD4500L

barcode scanner module

can quickly capture on-screen barcodes. It is armed with Newland's fifth-generation of UIMG technology. The scanner excels at reading on-screen barcodes even when the screen is covered with protective film or set to its lowest brightness level. In addition, the scanner uses a durable metal housing, making it ideal for self-service applications. Also, the advanced NLDC technology incorporated in the scanner helps reduce the power consumption and prolong the service life of the device. Moreover, the IR sensor in the scanner exhibits an improved sensibility in activating the scanner to scan barcodes as they are presented. markedly increasing throughput and productivity.
Shenzhen RAKINDA Technology Co., Ltd. is specialized in the development of smart card hardware and software systems, production, sales and operations in one of the national high-tech enterprises. Products are widely used in city card, park area, retail businesses, parking fees, government platforms and other consumer areas. With years of focus on management, innovation and development, the company in the industry has a wide range of customer base and industry reputation, to achieve the city card applications and urban bus intelligent scheduling management.
RAKINDA

engaged in barcode technology research and development for 18 years, we have a mature R & D team and overseas markets, we can help you quickly and easily realize unattended dream.