Solution
Car-Parking Equipment with Qr Code Reader
Source:Powered | Author:admin | Time:2018-05-23 | Views:349
Cars are main transport way. And it makes people life become convenient and fast. For example, go shopping by cars. How about the working module of car-parking with

phone barcode reader

in the market.
Firstly, there is one App on phone to check which place is available. And then parking the car. After shopping, the buyer scan the barcode on the bill and get the right to get out from the market.
Another car-parking module is to make the payment by Wechat Pay or Alipay due to the popularity of phone payment.
In order to separate Wechat Pay and Alipay, we put two phone

barcode reader

together. Please look at the picture.
Another key important part, the reading distance needs to long that the experience is great for the user. When scanning the QR code by the phone barcode reader embedded in the car-parking equipment, it is okay for the user to take the phone out directly. If the reading distance is short, maybe 5cm or 10cm, the user has to walk out from the car and then make the payment, the experience is bad.
So we design

RD4500L phone barcode reader

with long reading distance. The reading distance is from 30cm to 90cm.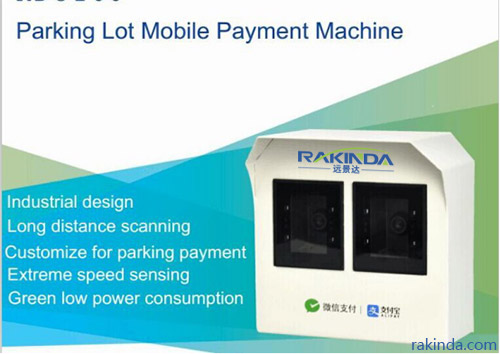 Rakinda as the professional supplier of bar code readers, we research and develop more different kinds of

barcode scanners

on the request of market. For example, we develop LV329 mini scanner on the basis of LV3096 mini reader, the LV3296 mini reader can read the small bar code with large information; we design RD4500R, RD4500I, RD4500-20, RD4600 phone bar code readers on the request of market. They are used widely in car-parking equipment, access control system, turnstile, kiosk and so on.
Rakinda

doest not only offer different kinds of reader but also have the researching and developing ability.
Any request about barcode reader, please kindly contact Rakinda.